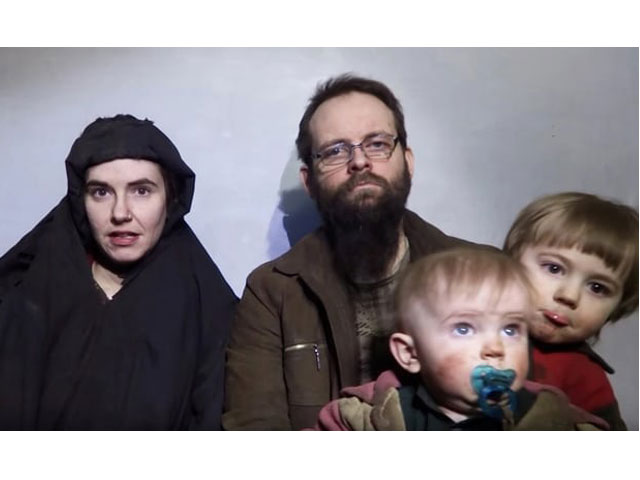 ---
ISLAMABAD: Pakistan Army on Thursday said it had rescued an American woman and her Canadian husband along with their three young children, who were held hostage by militants in Afghanistan for five years, in a move hailed by President Donald Trump as a 'positive moment' in relations between Islamabad and Washington.

American Caitlan Coleman, her Canadian husband Joshua Boyle and the children born in captivity were believed to be held by the Taliban-allied Haqqani network.

Coleman and Boyle were kidnapped while backpacking in Afghanistan in 2012. Coleman was pregnant at the time, and a video released by the Taliban in December showed their two sons born while they were hostages.

An Inter-Services Public Relations (ISPR) statement said that "through an intelligence-based operation", the army took custody of the hostages. It said the hostages had been recovered in Kurram tribal area that borders Nangarhar and Paktia provinces in Afghanistan.

Islamic State group is gaining foothold in the two militancy-riven Afghan provinces seen as stronghold of the Haqqanis.

Pakistan offered US joint operation against Haqqanis: Khawaja Asif

"The success underscores the importance of timely intelligence sharing and Pakistan's continued commitment towards fighting this menace through cooperation between two forces against a common enemy," the ISPR statement said.

US intelligence agencies had been tracking the hostages and on Wednesday shared the information that the family had been moved across to Pakistan through Kurram Agency border, said the ISPR. It added the operation by Pakistani forces, based on actionable intelligence from US authorities, was successful.

The ISPR said the five hostages were "safe and sound and are being repatriated to the country of their origin". It gave no further details about the circumstances surrounding the hostages' recovery.

But as of Thursday morning, the family's precise whereabouts were unclear and it was not immediately known when they would return to North America.

The family was not in US custody, though they were together in a safe but undisclosed location in Pakistan, according to a US national security official, who was not authorised to discuss the case publicly.

US officials had planned on moving the family out of Pakistan on a US transport plane, but at the last minute Boyle would not get on, the official said.

Afghan Taliban refuse to attend QCG meeting in Oman

Another US official said Boyle was nervous about being in 'custody' given his background. Boyle was previously married to the sister of Omar Khadr, a Canadian man who spent 10 years at Guantanamo Bay after being captured in 2002 in a firefight at an al Qaeda compound in Afghanistan.

Officials discounted any link between that background and Boyle's capture, with one official describing it as a "horrible coincidence".

The couple has told US officials that they wanted to fly commercially to Canada, according to the official, who spoke on condition of anonymity.

Meanwhile, a US embassy spokesman said on Thursday evening, "We welcome media reports that a family including US citizens has been released from captivity."

Boyle and Coleman appeared in a hostage video in December last year, with two of their children, pleading for their release.

The video was released after rumours swirled in Kabul that the government was planning to execute Anas Haqqani, son of the Haqqani network's founder, who has been held since 2014.

Secretary of State Rex Tillerson said the US expresses "deep gratitude" to Pakistan.

Pakistan's ambassador to the US Aizaz Chaudhry also welcomed the rescue operation for the western couple. "I welcome successful rescue of Ms Caitlan Coleman, a US citizen and her family from terrorists' captivity."

"I also wish to extend warm felicitations to Ms Coleman's family and her loved ones in the United States and Canada," the ambassador said, adding, "No one should have to experience the pain and anguish that Ms. Coleman and her family had been put through in the past years. I am delighted that their ordeal is finally over."

The parents of the rescued Canadian citizen Joshua Boyle also thanked the Pakistan Army in a video, which was posted on the DG ISPR's official Twitter account.


Parents of Canadian citizen Joshua Boyle thanking Pakistan Army for rescue of their son & his family. pic.twitter.com/0rXiGGkvcj

— DG ISPR (@OfficialDGISPR) October 12, 2017
COMMENTS (10)
Comments are moderated and generally will be posted if they are on-topic and not abusive.
For more information, please see our Comments FAQ