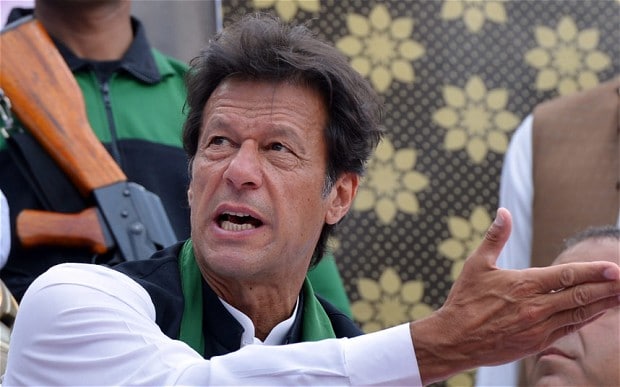 ---
[fbvideo link="https://www.facebook.com/etribune/videos/2041342939216055/"][/fbvideo]

Pakistan Tehreek-e-Insaf (PTI) chairman Imran Khan has come down hard on the lower house of parliament for passing a 'controversial' law which paved the way for deposed prime minister Nawaz Sharif to re-elect as the chief of the ruling Pakistan Muslim League-Nawaz (PML-N).

"Our National Assembly has recently passed a law which says a man who steals and tells lies before the Supreme Court and parliament can be re-elected as the chief of a political party," Imran told workers at a party rally in Buner district of Khyber-Pakhtunkhwa (K-P) on Sunday.

https://twitter.com/MohsinA73039481/status/916958893384896512

The government last week managed to bulldoze through the National Assembly a controversial electoral reforms bill, which allows disqualified politicians to hold a public office or to lead a political party, amid scathing criticism and vociferous protest from the opposition benches.

The Election Bill, 2017, commonly known as Electoral Reforms Bill was then subsequently signed into law by President Mamnoon Hussain.

"Today, the democratic assembly is allowing a criminal to become a party chief," the cricketer-turned-politician lamented as he hinted at launching another street movement against the government for enacting the legislation to save a'criminal'.

On warpath: PML-N inviting martial law, says Imran

"I think you will have to come out on the streets once again because a person [Nawaz Sharif] is devastating this country and its institutions just to save his own corruption."

Taking a jibe at Prime Minister Shahid Khaqan Abbasi for calling Nawaz his prime minister, Imran said the prime minister should be ashamed for making such statements.

"You [Abbasi] should be ashamed for calling a criminal your prime minister," he said.

Earlier, the PTI leader expressed his gratitude to the people of K-P for allowing him in 2013 to "initiate the winds of change from this province".

Imran went on to say that although his party did not secure much votes from Buner in the last polls but "today, it seems we will secure victory from this district in the upcoming elections".
COMMENTS (2)
Comments are moderated and generally will be posted if they are on-topic and not abusive.
For more information, please see our Comments FAQ