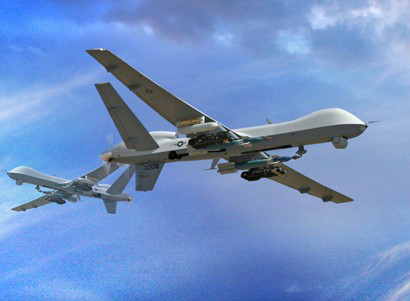 ---
At least ten people were killed in a US drone strike in the Datta Khel area of North Waziristan on Saturday, according to reports received by Express.

The target of the attack was a house used by militants in Mohammad Khel village, some 25 kilometres west of Miranshah, the main town in North Waziristan.

"US drone aircraft fired five missiles at a house owned by a tribesman identified as Khayli, killing six militants," said one intelligence official who declined to be identified.

But residents in the area said 12 people, including four women and two children, were killed. They said those killed were not militants and were from the same family.

Six women and two children were also wounded in the attack and being treated at a hospital in Miranshah, one witness said.

The United States has stepped up missile strikes in Pakistan's northwestern region since a Jordanian suicide bomber killed seven US Central Intelligence Agency employees at a US base across the border in Afghanistan's eastern province of Khost in late December.

Most of the attacks this year have been in North Waziristan.

Pakistan officially objects to the drone strikes, saying they are a violation of its sovereignty and fuel anti-US feeling, which complicates Pakistan's efforts against militancy.

It was the fifth drone missile strike in northwest Pakistan, bordering Afghanistan, since a failed bid to set off a car bomb in New York's Times Square on May 1.

This attack came after General Stanley McChrystal, the US commander in Afghanistan, reportedly urged Pakistan to launch an operation in North Waziristan.