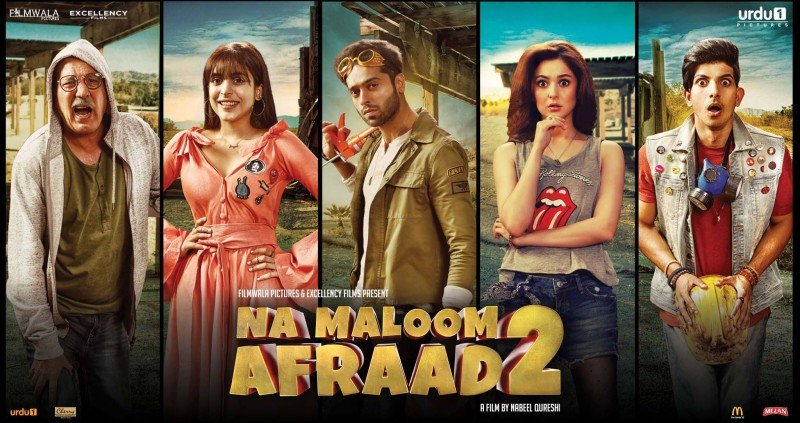 ---
The Fahad Mustafa-starrer Na Maloom Afraad 2 (NMA 2) was performing well on the box office, collecting around Rs200 million (according to producer Fizza Ali Meerza), until a sudden ban in Punjab took everyone by surprise. The reasons cited in the issued notification were the objectionable scenes and content resulting in complaints about the film.
Director Nabeel Qureshi, producer Meerza, co-star Mohsin Abbas Haider held a press conference on Saturday, October 7, where they addressed the issue in detail. Meerza revealed that they had already filed a petition in High Court and will pursue the matter actively. "Our film was performing really well. And in the month or so, it has already performed better than most films this year. September was the first month of 2017 where Pakistani cinema did really well. And now it's Muharram and first week after Ashura holidays is important for a film," she said. "But we have suffered losses because of this sudden ban."

Punjab Film Censor Board to review 'Na Maloom Afraad 2' again

She said they called every cinema owner in Punjab and were told the film was performing really well and they had no complaints about it at all. "It's surprising because the notification issued mentioned complaints but if the film is doing well, it means the public has accepted it and there are no complaints."
The team's lawyer, who was also present on the occasion, said the law stated that exhibitors contact the producers if a film has any issues, and sort them out. "Only if they are not satisfied, then they can take further steps. But there was no such process that they went through," he said.
Meerza added that they also faced issues from all three censors (Sindh, Punjab and central) during Actor In Law's release. "All three had different objections and we complied and the film released and went on to perform really well. This time around, there was no dialogue between us and anyone, and they simply banned it."
It is pertinent to mention here that insiders at the Punjab Film Censor Board claim they actually had no objections on the film at all. According to a senior member, Na Maloom Afraad 2 was watched in full before its release by the entire board, including female members, none of whom raised any concerns back then.

'Na Maloom Afraad 2' banned in Punjab due to 'inappropriate content'

"Our government banned Na Maloom Afraad 2; we ourselves have not objections to it. The film is still being screened in Sindh and it's beyond our understanding why it has been banned here in Punjab only," the official told The Express Tribune on conditions of anonymity. "No one sought our opinion on the matter either. We were simply sent a notification and informed that the film had been banned."
At the press conference, Qureshi said if the film had any ethical issues, then the film shouldn't even have been cleared by the censors in the first place. "But I feel the actual reason is Punjab government's inclination toward Sheikhs. As you know the film was also banned in UAE because it's satire on them and their extravagance," he remarked. "So, it's the Punjab government who is behind the ban because it jeopardises PML-N's relations with Arabs. And they have just covered it up by calling it an ethical objection."
The producer said the issue at hand was not just about Na Maloom Afraad 2. "It's not just about our film but all Pakistani films. They have done it before with Maalik and now it's Na Maloom Afraad 2. If they are going to ban films without solid justification, it's going to affect everyone involved in Pakistani cinema. This isn't our first film so they can't treat us like this. And even if it's a first-timer's film, they don't have the right justification to do it. There is no advantage for our cinemas in banning this film."

However, the film has been previewed by the Punjab censor board already and cleared again without any cuts or objections. It will be back in cinemas in Punjab - again. Commenting on the situation, Qureshi said, "I'm glad the issue was sorted really soon and the film can play again in cinemas this weekend. The censor board cleared it again, which simply shows there were no issues in the film to begin with."

The Punjab censor board has issued the notification stating that they reexamined the film and found no issues in it.


COMMENTS
Comments are moderated and generally will be posted if they are on-topic and not abusive.
For more information, please see our Comments FAQ