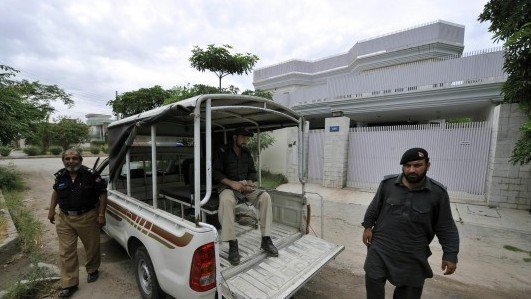 ---
ISLAMABAD/KARACHI: Investigations into the Times Square Bomb suspect Faisal Shahzad's links to Pakistan took a new twist on Friday when reports surfaced that at least six suspected persons have been arrested from different cities in connection with the case. Out of these, two are said to have been picked up from Karachi a few days ago and another four from Islamabad.

Of the Islamabad suspects, two are said to be working for a catering company and are said to have been taken into custody on May 10. Sources in the intelligence agencies who wish to stay anonymous confirm that Salman Ashraf and Ahmed Raza of Hanif Rajput Catering Services were picked in connection with the Faisal Shahzad case. "Both suspects are being jointly interrogated by the prime agency of the country and the US FBI personnel posted at the American embassy in Islamabad," they say.

While US embassy spokesperson Richard Snelsire confirms that FBI agents are investigating the Times Square plot in Pakistan, he insists they're working with Pakistan's interior ministry. "There is no special FBI team from the US; the team investigating the case was already deployed in the legal section of the embassy." Earlier on Friday, the US embassy had issued a notice warning its citizens in the country that it was "aware of threat information suggesting terrorist groups may have established links to the Hanif Rajput Catering Service (phone numbers UAN 111-25-13-25 or 051-225- 1325) owned by Mr Rana Ashraf Khan and his son Mr Salman Ashraf in Islamabad." The warden notice added that "as a precautionary measure, US govt personnel in Pakistan have been instructed to avoid using this company.

We have shared this information with appropriate Pakistani government agencies for their action." However, the US embassy refuses to say more. "We have only been informed about the two terrorist groups that are said to have links with the company," says Snelsire. He also refused to confirm or deny that Ashraf and Raza have been picked up on information provided by the embassy to Pakistani security agencies. Sources say Salman Ashraf and Ahmed Raza are cousins and business partners in the catering company.

It is suspected that both provided Shahzad with money from Pakistan to carry out plan in the US. The Rajput website says Salman Ashraf Khan studied in Houston before returning home to help run the family business and Rana Ashraf Khan worked for PIA for 20 years and then started the catering firm. A man who answered the phone at Rajput declined to comment on the allegations. But the company later held a press conference and informed the media that some intelligence agencies picked up Ashraf when he was leaving for his office in G-8 Islamabad.

Sources say, Ashraf, who is said to be of the same age as Shahzad, reportedly made contact with the latter during the time Ashraf was in Houston. Ashraf returned to Pakistan in 2001 and was working as the vice president of the organisation at the time he was picked up. Sources say that Ashraf and Raza were picked up on the night of May 10 from Islamabad. Police sources confirmed that family members of both suspects registered a report with the Shalimar police station a few days ago, stating that they went missing from Islamabad's F11/2 and F7/1 sectors respectively on May 10.

Ashraf's car was found a short distance from his house on the night he was picked up. One source added that Raza's wife Zainab was used by agency personnel to lure Ashraf out of the house on May 10 by telling him of an 'emergency'. Soon after, both went missing. Salman Ashraf's father Rana Ashraf Khan says his son is being framed and even if Salman came in touch with Faisal Shahzad sometime in the past, it would have been "by accident or as a total stranger." Khan dispelled the impression that his company was linked with terrorist organisations. "My son and never hatched plans to poison or attack any US citizens through our catering company."

Published in the Express Tribune, May 22nd, 2010.