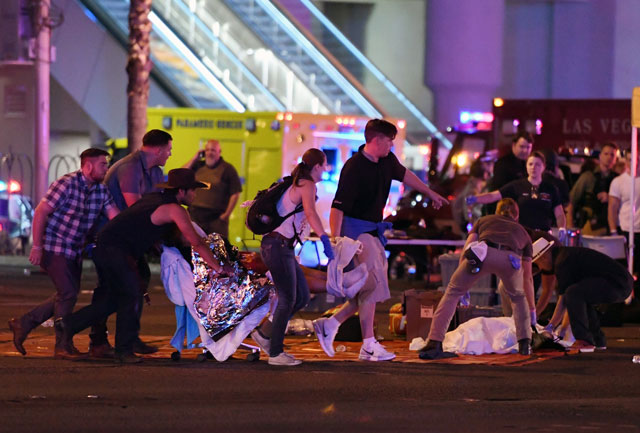 ---
After the gruesome mass shooting in Las Vegas on Monday night led to the killing of more than 50 people and left more than 500 injured, details of the deceased have emerged, reported BBC.
Among those who lost their lives was an off-duty Las Vegas police officer who was identified by friends speaking to the Las Vegas Review-Journal. Thirty-four-year-old Charleston Hartfield was a military veteran who also coached youth football.
Friends identify the Las Vegas police officer killed in Sunday's massacre: Charleston Hartfield, 34 https://t.co/CWu6qqTe9Q pic.twitter.com/dnHFnhQer0

— The Trace (@teamtrace) October 2, 2017


The Tennessean reports the death of Sonny Melton, 29. The paper quotes his wife, Heather, as saying the nurse saved her life by grabbing her as the shooting started. She says he was shot in the back. Another woman from West Virginia, Denise Burditus, was at the festival with her husband Tony. He later wrote on Facebook that she died in his arms. She was a mother of two and "soon to be a grandmother of five", he wrote.

58 killed, 515 injured at Las Vegas concert in deadliest US shooting

A special education teacher from Manhattan Beach in California, Sandy Casey, died after being shot in the back. She was with her fiancé, Christopher Willemse at the concert. Manhattan Beach Middle School, where they were colleagues, described her as "absolutely loved by students and colleagues alike". She had "made a tremendous difference in the lives of our students and their families," Superintendent Mike Matthews was quoted as saying on ABC7.


#Vermonter killed in #LasVegas massacre was an engaged teacher who "never had a bad day." More on the life of Sandy Casey - at 11 on @wcax pic.twitter.com/BIsqkqz9jw

— Priscilla Liguori (@PriscillaWFMZ) October 3, 2017


Among the casualties was also a Navy veteran who had recently returned from Afghanistan. Chris Roybal was at the concert with his mother and had been separated from her. "He went to combat and came back without being injured, and then goes to a concert and dies," she told NBC4.


Corona veteran loses life in #LasVegasShooting after surviving war in Afghanistan https://t.co/vsNoAucvcD pic.twitter.com/pHhclhnF0Z

— ABC7 Eyewitness News (@ABC7) October 3, 2017


At least three Canadians are among the dead, CBC reports. It names one as Jordan McIldoon, 23 and a mechanic's apprentice, from British Columbia. He was attending the country music festival with his girlfriend.

Worst mass shootings in the modern United States


BREAKING: B.C. man, 23, among the victims in Las Vegas https://t.co/dKR7CDFaiE pic.twitter.com/x01dYyXxaI

— CBC British Columbia (@cbcnewsbc) October 2, 2017
COMMENTS
Comments are moderated and generally will be posted if they are on-topic and not abusive.
For more information, please see our Comments FAQ