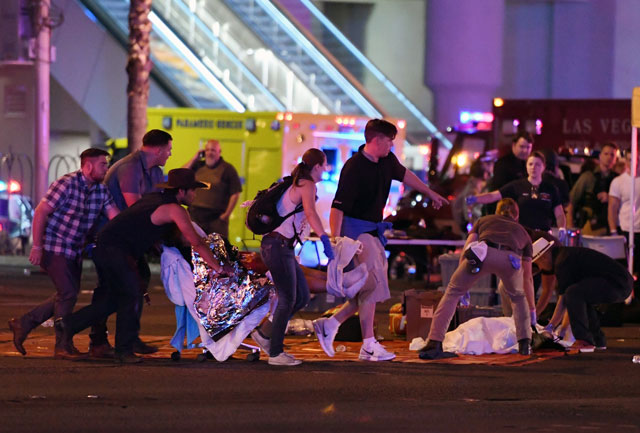 ---
NEVADA: A gunman killed 58 people and wounded 515 otehrs when he opened fire on a country music concert in Las Vegas in the deadliest mass shooting in modern US history.

"The number of people who have died associated with this event has increased. Right now we're using the number of 58," Las Vegas Sheriff Joseph Lombardo told reporters. "The number of injured - we are using the number of 515."

According to police, the gunman, a Nevada resident identified as Stephen Paddock, had been found dead after a SWAT team responded to reports of multiple gunfire from the 32nd floor of the Mandalay Bay, a hotel-casino next to the concert venue.

"We believe the individual killed himself prior to our entry," Las Vegas Sheriff Joseph Lombardo told a news conference in the Nevada gambling hub.

At least eight rifles were recovered from the room that had been rented by the 64-year-old.

Concert-goers screamed and fled in panic as a steady stream of automatic gunfire rang out at the venue shortly after 10pm local time, footage captured on smartphones showed.

Lombardo told reporters that initial estimates had put the number of dead "at in excess of 50 individuals" while more than 200 had been injured.




In a later statement, police put the number of dead at 50 and said the number of people taken to hospital at approximately 406, although it was not immediately clear if that figure included anyone who was later pronounced dead.

Police said Paddock, who lived in a town around 80 miles northeast (130 kilometers) of Las Vegas, had opened fire on the crowds below from the upper reaches of the giant hotel located on the famous Las Vegas Strip.

Paddock's female companion, who had earlier been named as a person of interest by police, is believed to have been located, Lombardo added.

Thousands of fans were attending the concert next to the Mandalay Bay as part of a three-day country music festival known as Route 91.

Las Vegas is an internationally renowned major resort city, known primarily for its gambling, shopping and entertainment. Video on the festival's website showed stage set up outside the front of the Mandalay Bay.

The hotel is near McCarran International Airport, which said on Twitter it had temporarily halted flights after the shooting. Later, the airport said that some flights had resumed.


UPDATE: Flights in and out of @LASairport have been temporarily halted in response to reported shooting incident on Las Vegas Strip.

— Harry Reid International Airport (@LASairport) October 2, 2017


One Twitter user posted that the casino hotel was on lockdown, while another, citing police scanners, said two gunmen who had shot at a bodyguard and police were on the 32nd floor, although there was no confirmation from police.


Dan Bilzerian, running from shooter at concert near Mandalay Bay resort in Las Vegas, says "a girl just got shot in the f*cking head." pic.twitter.com/FaS0VfeF7I

— Josh Caplan (@joshdcaplan) October 2, 2017


Video clips posted online showed what sounded like automatic weapons as panicked concertgoers fled or dropped to the ground screaming.

https://twitter.com/joshdcaplan/status/914734060332769280

Witnesses heard numerous gunshots at the hotel, where police tactical teams were searching for the attacker, according to reports on CNN and in the New York Times.




Officers in Las Vegas are packing shooting victims into squad cars, "I am transporting 5 critical patients in my car."

— Trey Yingst (@TreyYingst) October 2, 2017
Please avoid heading to the south end of the Strip. Las Vegas Blvd is shut down at Tropicana, southbound past Russell Rd at this time.

— LVMPD (@LVMPD) October 2, 2017


https://twitter.com/joekovacjr/status/914732349623029761

Islamic State group claims attack

The Islamic State group claimed the shooting massacre, saying it was carried out by one of its "soldiers" who had "converted to Islam several months ago".

"The executor of the Las Vegas attack is a soldier of the Islamic State and he carried out the operation as a response" to calls to target countries engaged in military action, IS's propaganda outlet Amaq said in online statements. It provided no evidence to back up its claim.

'No evidence Las Vegas shooter tied to militant group'

However, two senior US officials said there was no evidence that the shooter tied to any international militant group.

One of the two officials said there was reason to believe that the shooter had a history of psychological problems.
COMMENTS (11)
Comments are moderated and generally will be posted if they are on-topic and not abusive.
For more information, please see our Comments FAQ