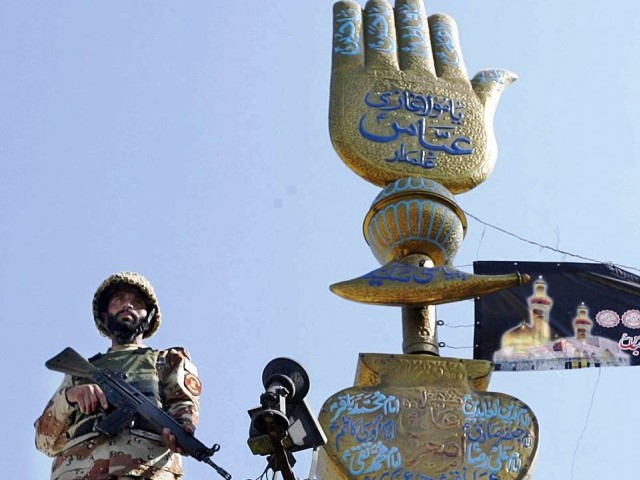 ---
PESHAWAR: Khyber-Pakhtunkhwa IGP Salahudin Mehsud has said that there was good coordination between the police, army and civil administration and local population was also cooperating fully with them with regards to security arrangements for Muharram processions.

He was talking to the media during his visit to the Command and Control Post established in Kohati Gate area of the city.

He said owing to coordination between police, Pakistan Army, Frontier Corps, Frontier Constabulary, civil administration and intelligence agencies, joint search and strike operation were being carried out which were bearing better results.

Mehsud said that all the necessary security equipment, including CCTV cameras, metal detectors and walk-through gates, had been sent to the districts 10 days ahead of Muharram.

He said all the districts had been given equal importance in Muharram security this year.

To a question the IGP informed that external apprehensions about security threats are there and keeping in view these apprehensions deployment are being made and intelligence based operations are being conducted.

The provincial police chief said it was heartening to see that local people were closely cooperating with the police, "we are hopeful that Muharram will come to an end peacefully."

The IGP further revealed that Muharram security steps were being adopted with consultation and active support of both sects and general public.

"The entire city is being monitored from the Command and Control Centre. Two more centres have been established for security and monitoring of the Muharram procession," he informed, Mehsud said.

"Mobile phone services will be suspended where needed," he said.

Sectarian harmony

The IGP presided over the joint meeting of Ahle Tashih and Ahle Sunnat and exchanged views with them about the security arrangements adopted by the police in the command post.

Leaders of both sects expressed full satisfaction over the adopted security measures and assured their full cooperation for peaceful observance of Muharram.

Latter, Mehsud visited the Army Control Room established in the command post. (With additional input by APP)

Published in The Express Tribune, September 30th, 2017.
COMMENTS
Comments are moderated and generally will be posted if they are on-topic and not abusive.
For more information, please see our Comments FAQ