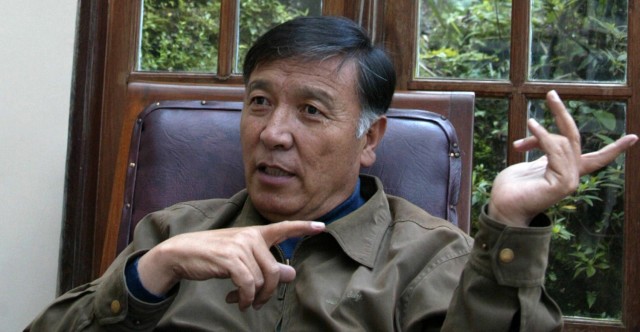 ---
KOLKATA: Tension gripped the eastern Indian hill town of Darjeeling with the murder Friday of a separatist leader campaigning for a new state for ethnic Nepalese speakers, police said.

Security in the tea-growing region in West Bengal was stepped up after Madan Tamang, president of the All India Gorkha League, was fatally stabbed as he was about to address a public meeting. "Tamang was repeatedly stabbed with swords and kukris," police inspector general Surojit Kar Purokayastha told AFP. "He died on the way to hospital."

Kukris are the traditional curved knives used by the Gorkha people. India's Gorkha community is from the same ethnic group as the similarly spelt Gurkhas in Nepal who serve in the Indian and British armies. It was not immediately clear who was responsible for the attack, although Tamang was reportedly at odds with another separatist faction fighting for a Gorkha state called Gorkhaland. The deputy leader of the rival faction, Roshan Giri, told AFP that his party had no hand in the attack. "Violence has no place in our movement," he said.

Shops and business establishments downed shutters immediately and West Bengal Urban Development Minister Asoke Bhattacharya said local police had been put on alert. The Gorkhas say they deserve a separate state within India as they have a distinct culture and speak a different language. Many blame the West Bengal government for the dismal state of roads and lack of job opportunities. Darjeeling, wedged between Nepal and Bhutan, saw the start of an armed struggle for Gorkhaland in the early 1980s.

It claimed the lives of at least 1,000 people but ended in 1988 with the federal government granting limited autonomy to the million-plus ethnic Nepalese Gorkhas. The demand for Gorkhaland was revived three years ago as a movement that favoured peaceful protest over violence.

Published in the Express Tribune, May 22nd, 2010.