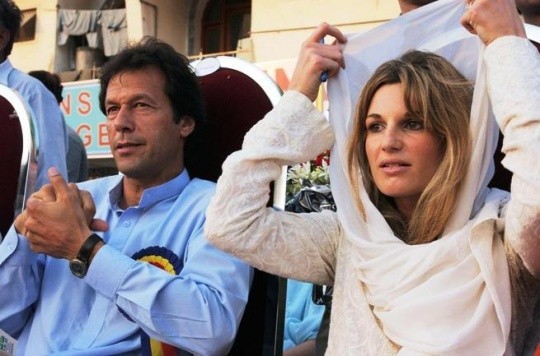 ---
ISLAMABAD: Pakistan Tehreek-e-Insaf (PTI) chief Imran Khan has contended before the Supreme Court that monetary gifts given to him by Jemima Khan are a matter between husband and wife, and are not declarable to any authority.

The three-judge bench, headed by Chief Justice of Pakistan Mian Saqib Nisar, will on Tuesday (today) resume hearing of a petition from Pakistan Muslim League-Nawaz (PML-N) leader Hanif Abbasi seeking Khan's disqualification on the basis of his 'differing' statements regarding the acquisition of land in Banigala.

The bench has conducted 26 hearings so far. In the most recent one, it raised several questions on the money trail provided by Khan regarding the land ownership.

Khan's attorney Naeem Bukhari, while submitting a supplementary statement on Monday, claimed that he had not changed his position regarding Banigala land at any stage of the proceedings.

Imran calls for early elections

According to the statement, a gift of Rs6.5 million and a final payment of Rs800,000 for the land was made by Jemima Khan via remittances to Rashid Khan during April 2002 and January 2003.

"Any payments made by Rashid Khan in anticipation of remittances from Jemima Khan were settled between him and her," claims the statement.

It is submitted that in his tax returns for the year ending June 30, 2002, the PTI chief had accounted for the Rs6.5 million amount as gift. It is further submitted that the London apartment was disposed of on April 14, 2003; that there was no foreign asset to be declared before the Election Commission of Pakistan or the Federal Board of Revenue as the cut-off date for the respective statements was June 30, 2003; and that the Banigala land was "in fact and law" the property of Khan's then-spouse and was declared as such.

Will do all to dig out truth about Imran's property: CJP

The statement says that the use of word 'Benami' in the power of attorney is misdescription contrary to the factum of ownership, the gift by Khan, the entire sale price having been remitted by Jemima Khan and all mutations in the revenue record in her name. The use of expression 'benami' in the General Power of Attorney is a misnomer.

"The document read as a whole does not establish either that it was a sham transaction or a benami," it says.

Meanwhile, the SC registrar's office has refused to entertain PTI's constitutional petition, seeking probe into the funding received by the Pakistan Peoples Party (PPP). Petitioner Shireen Mazari was asked to approach the proper forum first.
COMMENTS (1)
Comments are moderated and generally will be posted if they are on-topic and not abusive.
For more information, please see our Comments FAQ