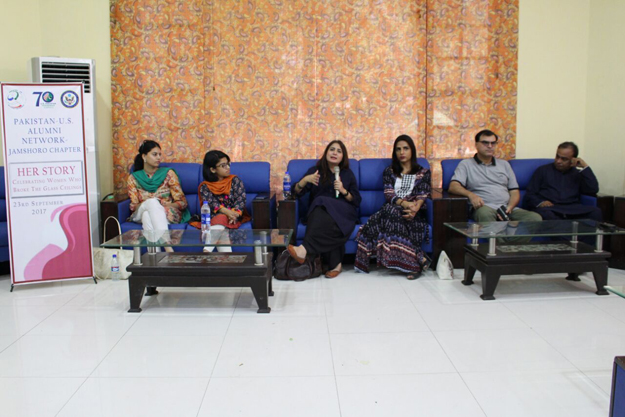 ---
KARACHI: For a woman who became a police official after qualifying the Federal Public Service Commission's (FPSC) exam, her education beyond secondary or higher secondary levels appeared to her an implausibility. During her school days in the rural Tando Muhammad Khan district, all that she was made to envisage by most of her family members was a life of housekeeping after marriage.

Although circumstances constrained her from envisioning higher education and leading a professional life, she always felt that she was bestowed with the spirit of a warrior or a rebel. But, interestingly, before that moment could have arisen for her to bring that emancipating spirit to bear upon her liberation to pursue her stunted dreams, some other development paved the way.

In 2001 my family shifted to Hyderabad and I decided what level of education and career I would not settle for less than, even though at the time I had not even thought of which profession I would join, said SP Suhai Aijaz, who told her life story at an event on Saturday.

Artists portray women's inner struggles, feelings on canvas

The event, titled 'Her Story: Celebrating women who broke the glass ceiling', was organised by Huda Bhurgari, a development professional, at the Hyderabad Club in collaboration with the Pakistan US Alumni Network.

Besides Aijaz, other accomplished women like architect and designer Marvi Mazhar, transgender fashion model and rights campaigner Kami Sid, English lecturer and poet Sania Siddiqi and psychologist Sabahat Naseem also recounted their experiences. The Hyderabad DIG and Root Work Foundation's Sartaj Abbassi were also among the panellists.

Unmoved by misogyny

Aijaz, the daughter of Dr Aziz Talpur who is also a politician belonging to the Qaumi Awami Tehreek, arrived late at the event and was, therefore, the last to speak. While narrating her story, she could not exude the skill of a raconteur. But still she arguably captivated the listeners' interest more than the other panellists.

Veteran activist Lala Rukh breathes her last

She began to sense gender discrimination when her father would not allow her to leave home alone and when her younger brother would occupy their family car's front seat. "I was a monitor in my class and I felt that the boys always had a problem with me," she said. The same problem, she believed, she encountered during her training at the police academy.




"Many male batch-mates hated me. They would never reply to my messages on our batch's Whatsapp group." When she received an award on completion of her training, some male officers taunted her that sympathy for her being a female officer won her that recognition rather than her merit.

Before joining the police force, Aijaz planned to become a neurosurgeon. She later enrolled herself in a chartered accountancy programme where the 'boring' subjects forced her to find an escape in literature. These episodes preceded the day she came across an advertisement for the FPSC's competitive exams for which she prepared during the next few months and ended up passing.

Her first posting was as an ASP under training in Garden, Karachi, and the first research assignment was related to the Lyari gang war. The Hyderabad DIG told the event that she has so far killed an outlaw in an encounter in Hyderabad and that she is one of best shooters among the officer cadre.

Each with a different tale

"My story is not that different from other women," said Sid. "But transgenders are slightly more powerless than women." She recalled being teased by schoolmates and asked by teachers to sit among the girls at a time when she was in the throes of identifying her gender.

"Society vexed me but for that I would get the whack at home," she lamented.

From folklore to feminism: Celebrating womanhood at the shrine of the seven sisters

Nevertheless, she believes caving in to social injustices and discrimination does not offer the panacea. "I believe that the matter is not about getting rights but snatching rights." She wished to see not only a replacement of transphobia with tolerance in society but also acceptance of discriminated communities.

For Naseem, her short height turned out to be a stumbling block for her aspirations. "Life has been difficult but not impossible," she sighed while remembering the obstacles she confronted during her education, job and in her social life. "I always used to pray for my height. But not anymore [as] I have told myself don't get stuck in life and move ahead," the psychologist said.

After her father's death in 2014, Siddiqi felt exposed to ridicule and criticism by the relatives who thought she was too bold and her poems were vulgar. She read a poem which encompassed the array of issues plaguing women in different forms, traditions and customs in Pakistan.