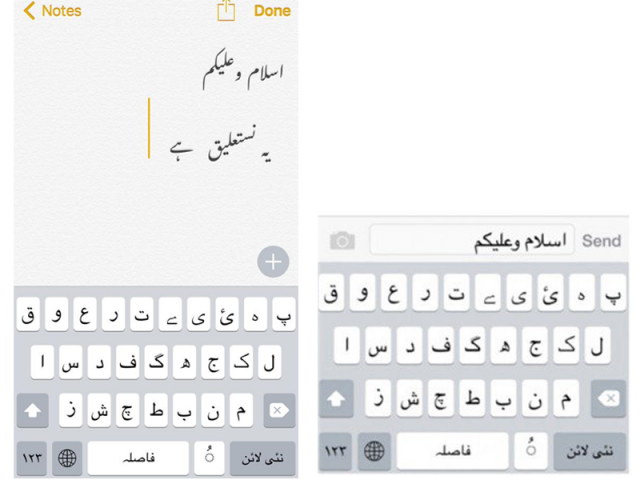 ---
Apple recently released iOS 11 and the latest operating has promised a host of new features for your iPhone or iPad.

Among all the new nifty features, one thing that grabbed our attention is Apple's support for Urdu in Nastaleq font. The Cupertino-based tech giant has introduced Nastaleq font keyboard for Urdu, enabling users to be able type in what's consider a proper Urdu font.

E-Urdu: How one man's plea for Nastaleeq was heard by Apple

For that, credit goes to Mudassir Azeemi, creator of Urdu Writer and user experience designer, who started a social media campaign in 2014 which prompted Apple to implement Nastaleeq font for Urdu keyboard on its devices.

Though, Apple implemented the Urdu language keyboard across mobile devices in its iOS 8 update in 2014. But it adopted the Naksh font instead of native typeface of Urdu language, Nastaleeq.

Nearly eight months after Azeemi's campaign, to the joy of the Urdu readers, Apple incorporated the widely-used Nastaleeq font in the beta version of the iOS 9. However, it was dropped from the official version.

With the new iOS 11, Apple revamps its App Store

So, when Apple officially released the iOS 11 to the general public, Azeemi was understandably ecstatic. He tweeted saying "Today is the day you will remember the general public got the Nastaleeq on their iOS Devices."

https://twitter.com/maxeemi/status/910206107607474176

"The Urdu language preserved properly on modern devices, from now onward," wrote Azeemi in his blog.

How to enable Nastaleeq typeface in iOS 11

Azeemi, in one of his blogs, even gave step by step direction on how to enable Nastaleeq typeface on iOS 11.

You 'can't' turn off Wi-Fi and Bluetooth from iOS 11 Control Center

In order to opt for Nastaleeq typeface, go to > settings and scroll down to General and tap on Language & Region.

Click on Other Languages option and search for "Urdu" and tap done on the top-right corner. Then select "Prefer English" to keep system labels on iPhone in English language.

Here's how Urdu on iOS before and after Nastaleeq is being enabled.


COMMENTS (3)
Comments are moderated and generally will be posted if they are on-topic and not abusive.
For more information, please see our Comments FAQ