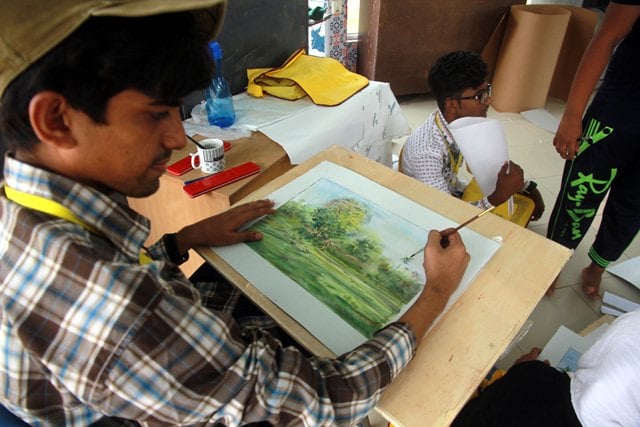 ---
KARACHI: With the aim of providing underprivileged children access to art, an education project, 'Art Khatola', was launched on Monday evening.

This is the second time this project is being held, as it was first initiated last year. The project is a mobile art programme that seeks to bring art education to children who are studying at private and government schools in shanty towns in the city, especially those schools with no art programmes, said Abdul Rehman Media and Education (ARMEN) Project Director Afshan Razzak, while speaking at the project launch held at the Manzar Akber Hall at the Arts Council of Pakistan.

The project seeks to strengthen the partnership within the community to allow easy access to art and support school-going, as well as out-of-school children, she said.

Razzak said Art Khatola is a seven-month programme aimed to benefit 500 children living in Korangi and Malir. Almost 120 of the children are not enrolled at any school.

Artist paints serene colours of nature

She added that our objective is to engage these children in art-based activities with the hope of fostering a sense of tolerance simultaneously using art and interaction to promote creativity in young minds. The project will have five themes, all art-based, and the proposed informal art programme will provide a much-needed healthy opportunity to these children by engaging them in informal education and, like the first phase, it is hoped that more children are enrolled in formal schooling, she said.

Razzak added that we want children to engage in the local art of pottery, handicrafts and embroidery where they will be able to show off their skills. She added that the programme will be completed in March, 2018 and an exhibition will also be held where the children will showcase their talent.

At the inauguration ceremony, music and magic shows were also organised, which the children thoroughly enjoyed.

Saima Amjad, a mother who had brought her son to the event, said that she was happy to enrol her son in this programme, as he is very good at painting and will be able to explore his talent through the programme.