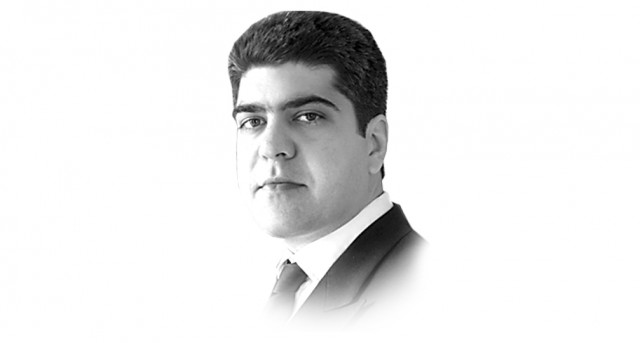 ---
What do Jamshed Dasti and Arnold Schwarzenneger have in common? They were both elected to office. Ain't democracy grand?

Arnold Schwarzenneger is the world's most famous bodybuilder and 'governator.' According to Dylan Moran, he was famous, even before he became a movie star and Maria Shriver's husband. But the real amazing thing about Schwarzenneger's political career is not that he ran for office but that he was elected by the people of the State of California.

Jamshed Dasti stood for election in 2008 at a time when our laws decreed that anyone without a college education was incapable of participating in the political process of the country. This law was passed by the Musharraf legislature (and subsequently approved by the Supreme Court) in ignorance of history, in disregard of men as accomplished as Mohammad Ali Jinnah, and Winston Churchill and without irony in a country where the vast majority can hardly finish primary school let alone a BA degree. It was passed with the naive belief that it would improve the quality of legislators in Parliament. One needs merely to refer to the parliament during the Musharraf years for proof whether it worked.

Anyway. Dasti claimed he had qualified for a sanad, stood for and won the election on a PPP ticket. His opportunity to serve the people of this country has been dotted with one faux pas after another. From being too aggressive on TV, swearing in public and to saying outlandish things about women and women's rights, Dasti did nothing but reinforce the popular perception of what passes as a politician in these parts.

When challenges to Dasti's educational qualifications were raised before the Supreme Court, he was asked to prove his sanad. He could not. Not only did he not have the basic knowledge of the more important chapters of the Holy Quran, he was unable to perform simple arithmetic. But before the court could hold that he had violated the law when he stood for election, Dasti resigned his membership of the National Assembly.

Jamshed Dasti, disgraced parliamentarian, has not only run for a seat in the bye-election, he has won. He managed this feat of World Class Chutzpah because the government he represented — and which represents the will of the people — did away with the ridiculous BA requirement. Ironically enough, by resigning his membership of the National Assembly, Dasti more or less erased the sin he was found to have committed.

The press and popular opinion have so far defined this entire episode within the 'fake degree holder' debate. This is a relatively easy moral platform to climb onto and shout your lungs out. What many screamers and shouters have so far ignored is the fact that Dasti, regardless of what one may think about the man, was voted in by the people of his constituency. And that too once hid fake degree had been exposed. In a democracy, the vote of the people is the bottom line. This is why the system has earned itself a "garbage in and garbage out" reputation. Like I said, isn't democracy grand?

Meanwhile, because some troublemakers decided it would be funny to hold a 'Draw Mohammad (pbuh) Day' and advertise it on Facebook, the Pakistan Telecommunication Authority has taken it upon itself to block Wikipedia, among other things. What we need to do, really, is to ban all forms of learning and interaction. Ban schools and college, because they can teach you to think blasphemous things. In fact, what we should do is shut down all the schools in Pakistan and put a huge statue of Jamshed Dasti on top of the presidency in Islamabad that would make a fitting tribute to the nature of our democracy.

Published in the Express Tribune, May 22nd, 2010.