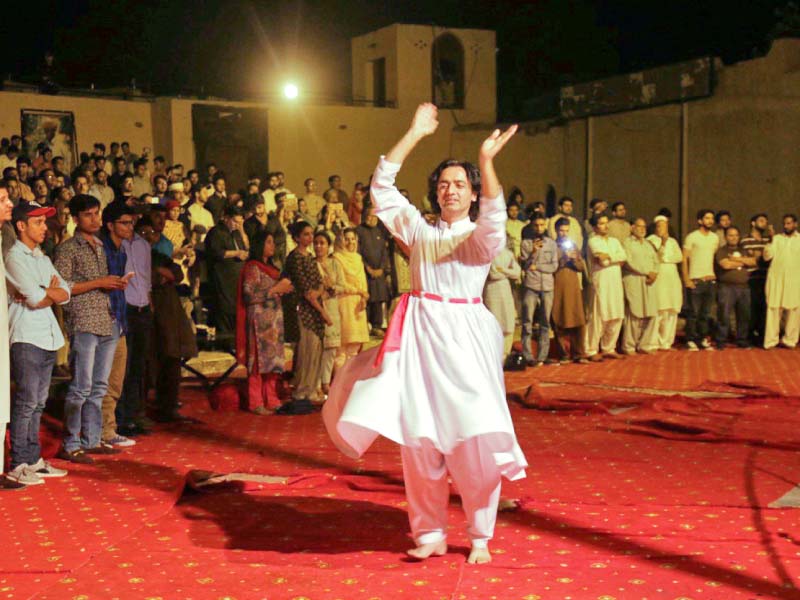 ---
ISLAMABAD: Imitating his father's prominent style, Imran Aziz enthralled the audience at Lok Virsa Open air theatre on Friday while performing devotional Sufi musical night organized to pay tribute to the renowned Qawwal Aziz Mian.

Aziz Mian, a legendary symbol of South Asia, was famous for unique style of qawwali. Born in 1942 in Delhi, he migrated to Pakistan in 1947 and began learning the art of qawwali at the age of ten.

Lok Virsa plans cultural fests in schools

The open air theatre of Lok Virsa was jam-packed with audience comprising of both women and men in almost equal numbers. Aziz performed with great zeal, much like his father, and compelled listeners to applaud lavishly.

There were so many rounds of wah wahs after every verse. His voice carved to the point where his range was greater than the keys of his harmonium and beats of the tablas. And compositions with full of emotions that music lovers easily linked to and enjoyed.

Lok Virsa Executive Director Dr Fouzia Saeed in her welcome remarks said, the basic aim of the event was to pay tribute to the master of qawwali Aziz Mian and at the same time to provide awareness to youngsters about the country's culture and traditions.

She said Aziz Mian Qawwal would be remembered forever for record singing of qawwali and Lok Virsa would arrange more such events to pay tribute to senior artists of the country.

"Most of our younger generation are ignorant about the 'sufi kalaam' and this is the best way to educate them about it," she added.

Imran Aziz got the audience delighted when classic qawwalis like Mein Sharabi and Teri Surat Nigahon Mein Phirti Rahe along with others were instant hits. Imran Aziz's music breathed fresh life into the traditional music, at the same time enhancing qawwali's dynamic and utmost spirit.

Lok Virsa plans linguistic academy to preserve G-B languages

"I feel like I am listening to the late Aziz Mian. Imran has successfully adopted his father's unique style, especially his way of singing,'' said audience member Maham, adding that nevertheless, his father was a maestro in his own league and will always be remembered.

Imran Aziz also performed compositions dedicated to Hazrat Khawaja Nizamuddin and Hazrat Khawaja Moinuddin.

Raheel Iqbal in the audience had Imran Aziz Mian for the first time live and fell in love with his performance. "He is so engaging and his music makes so much sense," Raheel said, admiring the perfect synchronization among the musicians.

Published in The Express Tribune, September 17th, 2017.
COMMENTS
Comments are moderated and generally will be posted if they are on-topic and not abusive.
For more information, please see our Comments FAQ