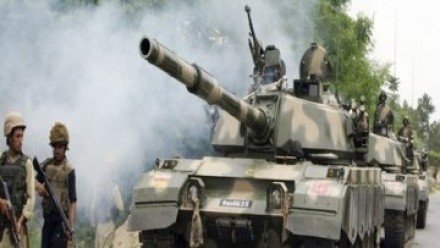 ---
ISLAMABAD: No surprise was felt on Friday when the Defence share was increased by Rs105 billion in the upcoming budget.

Federal Advisor for Finance, Abdul Hafeez Sheikh said Defence budget of the country will be increased by Rs105billion in the upcoming budget.

He made this announcement while giving a briefing on the federal budget of 2010-11 to the National Assembly's Standing Committee on Finance.

Moreover, as announced by the NFC award, Rs1036 billion will be distributed among the provinces while another Rs5 billion have been fixed for health.

The energy sector will also be alotted a subsidy of Rs127 billion.

Meanwhile sources confirmed that a salary raise of government employees is also on the cards, with Rs40 billion allocated for this purpose.

According to sources, the new fiscal year's tax collecting target has been set at Rs170 billion.
COMMENTS (3)
Comments are moderated and generally will be posted if they are on-topic and not abusive.
For more information, please see our Comments FAQ