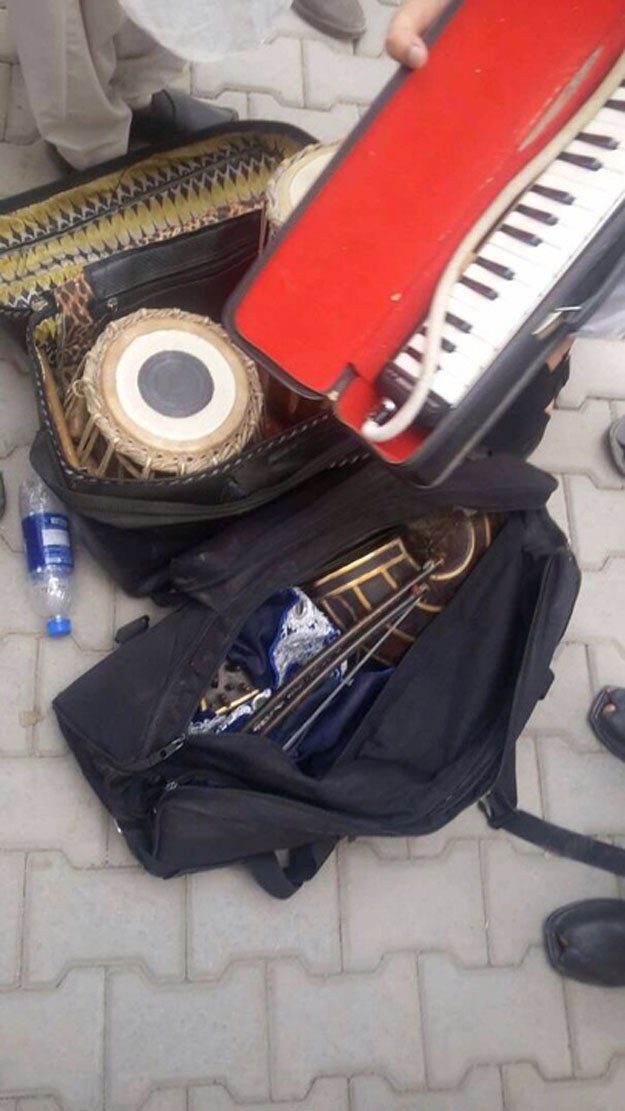 ---
PESHAWAR: Adamant local clerics launched an onslaught in the Khyber Agency, targeting musical instruments, lighting up a bonfire of 'confiscated' items in front of a local seminary.

The event was held after the Friday prayers at the Darul Ulum wa Astana-e-Banoria Ashkhel.

Khyber Agency residents asked to evacuate village over fear of cross-border shelling

Musical instruments and gadgets that were burnt in a heap had been confiscated by roaming groups of seminary students who 'raided' wedding ceremonies and personal gatherings in private Hujras.

"We have burned down 10 items of music … We will not tolerate such activities in (our) area … If any musical event is staged in the area, we will confiscate items. The guilty ones will also face social ostracisation from local community in Jamrud tehsil," Muhmmad Ilyas alias Khan Lala told The Express Tribune.

Another seminary cleric, Muhammad Ibrahim alias Bacha Jan, said that selling and buying of all instruments of music and items of intoxication "will not be tolerated (anywhere) in the agency. If we come to know about any un-Islamic event we will swoop harshly on them".

Polio drop refusal: Peshawar decides to arrest 500 parents

Appreciating "elders and Maliks of Landi Kotal tehsil" and the role played by "our political administration", Bacha Jan said that they extended their full cooperation in banning "music and musical events in weddings".

Over the past few months, students and followers of the Astana-e-Banoria Ashkhel had been raiding musical events in the Sheikh Mal Khel, Mir Dad Khel.

They actively sabotaged stages and confiscated musical instruments, besides regularly beating up singers and other local performers.

Cleric who cried 'blasphemy' arrested

"We have informed the local people before Friday prayers that no one will be allowed to arrange music functions in the area … If any individual is found guilty of such an act, we will take action," Lala said

Meanwhile, a local journalist quoted the APA of Jamrud tehsil as saying that the political administration had "summoned the clerics of the Madrassa. Nobody will be allowed to take law in their hands."

"We have summoned two religious scholars tomorrow and if they are found guilty (of any illegal acts), they will be dealt with in accordance with the law. Vigilantes will not be allowed to prohibit anybody from any act. (If they find anything offensive) they must inform the office of the PA or other offices concerned. We will take (appropriate) action," the APA maintained.

Final 'unrest': Badin mob digs out Hindu man's grave

At the height of Taliban terror, all musical activities had been banned and deemed "unlawful".

After the military operation in the agency, musical functions began to be held in the tehsil.

Local people said that both clerics of the Madrassa had again banned such activities, terming them un-Islamic.

Similar events were also observed in Swat during the reign of Mullah Fazlullah when Swat Taliban took control of the area and burnt TVs and musical instruments in the entire Malakand Division.


COMMENTS (8)
Comments are moderated and generally will be posted if they are on-topic and not abusive.
For more information, please see our Comments FAQ