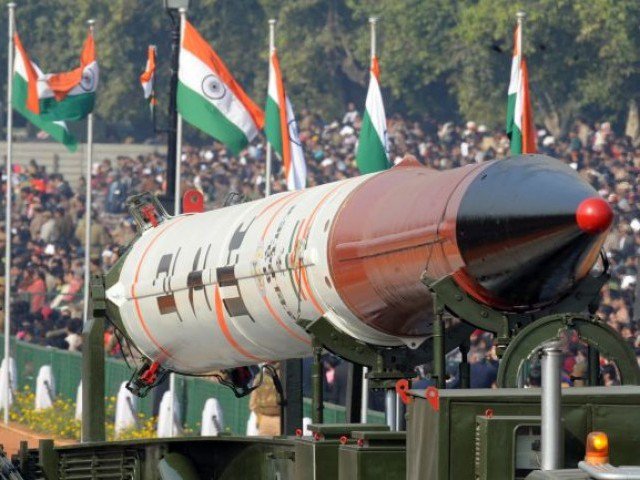 ---
With the introduction of new naval nuclear powers, the security dynamics of the Indian Ocean Region (IOR) is undergoing a rapid change. There is a dawn of a new era wherein the geo-political and economic alignment of states is shifting from the Atlantic to the Indian and the Pacific Ocean regions. The US cites the security situation in the Middle East and Afghanistan as its anchors for presence in the IOR. The US policy of 'Pivot to Asia' required a more active and concentrated role in this zone. Similarly, China's security requirements pertaining to its trade routes and the growing Indo-US partnership, such as Logistics Exchange Memorandum of Agreement, are causing it to increase its presence in the region as well. Currently, the trade passing through the IOR amounts close to $777 billion.

With the advent of naval powers with nuclear submarines and nuclear-tipped ballistic and cruise missiles, the contours of strategic security in the IOR are evolving. The US and China are taking up an increased role in the Indian Ocean and the littoral states are also vying to push their weight.

'Militarisation of Indian Ocean threat to peace'

For China, its trade route's security impels a stringent security regime. That the choke points at the Malacca Strait can potentially be used for a full blockade of Chinese ships during war time makes it important for China to be able to deter any such moves by hostile navies. Likewise, as the Indo-US partnership takes shape, the threat threshold for China is inching towards its lower limit. To cater for such expeditions, Beijing has been building up ports in other countries such as Bangladesh, Sri Lanka and Pakistan amongst others to secure its commercial activities. This initiative was termed by the US a 'string of pearls' weaved by China in the Indian Ocean. The US firm, Booz Allen Hamilton, in 2005 postulated that China will try to expand its naval presence by building civilian maritime infrastructure along the Indian Ocean periphery. Therefore, the deployment of a Type 093 Shang-class nuclear-powered attack submarine (SSN) and its docking at Colombo and Karachi imply an intention of building up towards nuclearisation and militarisation of the IOR. For China, it is important to match the capabilities of the US.

India's nuclearisation in the IOR began with the induction of INS Arihant nuclear submarine in August 2016 — equipped with nuclear warheads — into its naval nuclear command. Delhi refers to the Indian Ocean as an area of strategic influence. Currently, India possesses two nuclear-powered submarines, one of which is a Ballistic Missile Submarine (SSBN). This SSBN known as INS Arihant was commissioned into the Indian Navy in 2016, while the SSN INS Chakra was procured from Russia in 2012 on a 10-year lease. Arihant comes equipped with two types of missiles; K-4, which is an intermediate range nuclear capable submarine that can launch ballistic missile with an upper range of 3,500km. It gives India the ability to target its adversaries from almost anywhere in the north Indian Ocean. The second one is K-15 which is a short range nuclear capable submarine that can launch ballistic missile with a range of 700km. By completing the third leg of its nuclear triad, it triggered Pakistan to come up with a solution to maintain its strategic balance vis-à-vis India.




Therefore, Pakistan's recent initiative of building a credible nuclear triad came in the shape of submarine launched cruise missile (SLCM). This year, Pakistan successfully tested a SLCM to be retrofitted to French-designed Agosta 90B submarines, thereby providing the quickest way to a second-strike capability. As Pakistan's current economic conditions do not permit it to develop an SSBN, Pakistan chose the next best option to ensure a second-strike capability to maintain deterrence. Utilising available resources, it developed Babur-3, a short-range submarine launched cruise missile with a range of 450km. This diesel submarine equipped with an SLCM is Pakistan's effort to thwart India's malintentions.

As a diesel-powered submarine does not afford Pakistan the same freedom, speed and viability that a SSN or SSBN can, the country's options are limited. While it is a step towards further nuclearisation of the IOR, Pakistan's entry into the third leg of the nuclear realm is prompted by a 'quadrilemma' that starts with any strategic action by the US in the IOR. It automatically warrants reciprocation from China. India claims that China's security readjustments apropos the US, prompts it to calibrate its own security regime. In doing so, it triggers security issues for Pakistan which then causes Islamabad to readjust itself. Thus, Pakistan is essentially caught in the cross hairs of great power politics.

Chinese naval commander appreciates PN for collaborative security in Indian Ocean

Nonetheless, the growing nuclearisation is going to be increasingly problematic for both littoral states as well as the region at large. As the number of nuclear players increases in the Indian Ocean, the issues related to security, balance of power and naval dominance are bound to multiply. With India wanting to assert more control over the sea to keep other states out, it would lead to confrontation with China or vice versa. Additionally, Pakistan being a smaller state would use nuclear signalling to imply its readiness to retaliate if India shifts its conventional or nuclear posture. This is despite the fact that Pakistan's nuclear arsenal is kept in dematerialised form to avoid any mishaps or accidents.

Overall, the nuclearisation of the Indian Ocean would prove to be a challenge for the states in the region. The nuclear states would have to keep adjusting and readjusting their nuclear postures and policies to address the challenges that would arise owing to the building of arsenal and ramifications of nuclear policies of the powers in the region. This would also entail massive problems for strategic stability in the region as any state that feels threatened could wrongly indicate its readiness to undertake actions, in effect causing a conflict situation.

Published in The Express Tribune, September 9th, 2017.

Like Opinion & Editorial on Facebook, follow @ETOpEd on Twitter to receive all updates on all our daily pieces.
COMMENTS (4)
Comments are moderated and generally will be posted if they are on-topic and not abusive.
For more information, please see our Comments FAQ