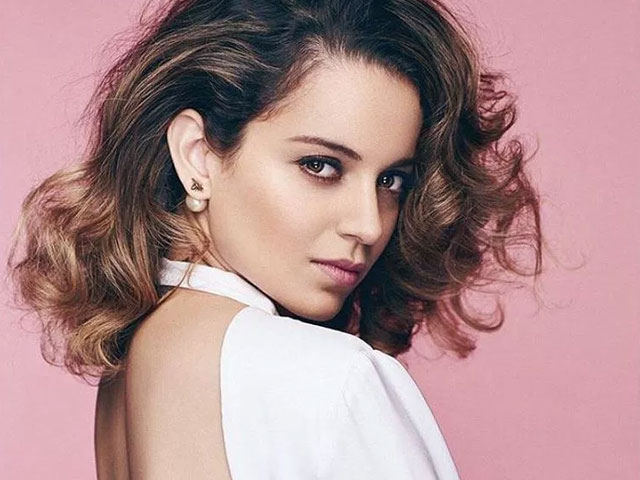 ---
It's been almost a year since the bold and daring Kangana Ranaut raked up a controversy over her alleged relationship with Krrish 3 co-star Hrithik Roshan.

However, seems like the Queen star isn't over the feud and revisited the public spat last weekend when she gave three explosive interviews talking about, among others, Hrithik Roshan, Aditya Pancholi and Adhyayan Suman. Kangana claims she has been in a relationship with all three, reports Hindustan Times.

After shocking allegations the starlet accused her 'past beaus' of, some reaction was surely expected.

If Hrithik wasn't dumb, I'd be in jail: Kangana Ranaut

While Aditya threatened legal action against her, Hrithik simply walked away when asked about the Simran actor. Adhyayan, on the other hand, has claimed he does not know about the interviews!

In her interview with Rajat Sharma, Kangana revealed, "Hrithik sent me a notice seeking an apology and asked me to organise a press conference to clear his name. He said he will date the pope but not me. He also threatened me to leak mails and do other things if I don't apologise."

In her interview with Rajeev Masand, Kangana spilled the beans on how the Kaabil star acts when he sees her, "He runs away when he sees me. In fact, when we broke up in 2014 and after that one year when he was harassing me and stalking me, I complained to his father,"she said.

Sussanne Khan backs ex-husband Hrithik in fiasco with Kangana Ranaut

"I told him that his son is harassing me, stalking me, has hacked my account and he's not letting me get into any other relationship. So his father said I'm going to arrange a meeting for you. Since then, I'm hoping to get a meeting with him to have a two-word conversation with him and ask him about why he's telling the world he doesn't know me."

When asked about Kangana, Hrithik walked away from the reporters in a recently uploaded video on YouTube.


Talking about Aditya, she told Rajat Sharma, "He got an apartment for me but didn't allow my friends to come there. It was a kind of house arrest. Then I went to meet his wife. His daughter is a year older than me. My film Gangster was about to release then. I met his wife and asked for her help. She said to me that they are happy whenever he is not at home otherwise he raises his hands on the domestic helps and others around. It's actually good for us if he is not around, so I can't help you."

Reacting to the allegations, Aditya told Bollywood Life, "She is a mad girl, what to do, did you see the interview? Didn't you feel like some mad person was talking? Who talks like that? We have been in the industry for so long, nobody has ever spoken anything so evil about anyone. What should I say, she's a mad girl. If you throw stones in mud, it will only spoil your own clothes."

I'll always take what is mine, by fighting or any other means: Kangana Ranaut

"She is lying, that's why I am taking legal action against her. I don't know about other people, but as far as my story goes and what she has spoken about me, she has stated all lies. She has to prove that I have done that. My family is very much affected by it. My wife and I will take legal action against her," he added.

Adhyayan had earlier accused Kangana of practicing black magic and had even physically hit him. Kangana told Sharma that beating him up wouldn't have been a bad idea. "He was 95 kgs and I was of 49 kgs. How could I ever hit him? I wouldn't be able to? However, now that I look at it I should have hit him," she said.

It was like a second death for me: Kangana Ranaut on Hrithik Roshan controversy

When The Indian Express contacted Adhyayan, he told them, "Sorry, haven't heard about the interview. I have been too caught up with more important things in life… and I am not interested in knowing about it either." After being told what the Queen star has said in her interviews, he added, "It's okay for people to have opinions and at this time I don't have one. Will talk soon. Need to get back for my shot."

Have something to add to the story? Share it in the comments below. 
COMMENTS (1)
Comments are moderated and generally will be posted if they are on-topic and not abusive.
For more information, please see our Comments FAQ