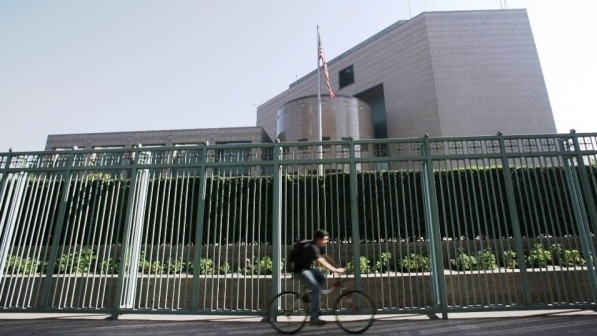 ---
SANTIAGO: The Chilean government on Thursday appealed against the release of a Pakistani man briefly detained and charged after being found with traces of explosives at the US embassy here, a court official said.

Mauhannas Saif ur Rehnab Khan, 28, was detained on March 10 and charged five days later with illegal possession of explosives. The Pakistani national was set free Saturday pending the investigation. He is barred from leaving Chile and must check in with a judge every two weeks.

But the attorney general's office for eastern Santiago earlier Thursday formally filed an appeal against Khan's release, and asked he be placed under preventative detention. The interior ministry's attorney "joined the attorney general in requesting preventive prison for the suspect," a court official later told AFP, asking to remain anonymous.

He said the Santiago Court of Appeals was expected to rule on the government's request on Saturday. A hotel intern in Santiago, Khan was detained for five days under Chile's anti-terror law after traces of TNT were detected on his hands, cell phone, bag and documents when he visited the US embassy on a visa matter.

He was not charged with violating the anti-terror law. And the Pakistani national has denied those charges brought against him, saying he harbors no malice toward the United States, where he has relatives.

Khan said on Tuesday in a statement his predicament was all "a big misunderstanding stemming from a mistaken identity." Khan was detained a week after the arrest of a naturalized US citizen born in Pakistan, who US authorities accuse of having planted a car bomb on May 1 in New York's Times Square. It failed to explode, and Faisal Shahzad was arrested as he tried to leave the United States on a flight to Dubai.
COMMENTS
Comments are moderated and generally will be posted if they are on-topic and not abusive.
For more information, please see our Comments FAQ