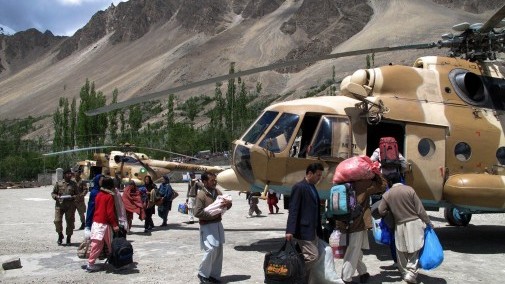 ---
HUNZA: Prime Minister Syed Yousaf Raza Gilani reached Gilgit on Friday morning to meet the affectees of the Attabad lake.

Gilani said that a compensation package for the Attabad lake affectees will be announced soon.

The prime minister arrived in Hunza on a day-long visit to assess the situation caused by landsliding and creation of an artificial lake that threatens downstream areas.

Addressing a public gathering at the Altit IDP camp in Karimabad, Gilani said that water will start flowing over the spillway created by the Frontier Works Organisation within two to three days.  He lauded the efforts of the army, the NDMA and the local administration for their role in dealing with the crisis.

Gilani said that the government is assessing the damage after which funds will be released as needed. He added that he will personally make sure that they are transferred immediately.

The prime minister is accompanied by Information minister Qamaruz Zaman Kaira and Interior Minister Rehman Malik.

Meanwhile, a shortage of food and basic commodities has prompted the restoration of helicopter service from Karimabad to Gulmit and Sost for Hunza Lake affectees. Boat services in the area were earlier suspended as water levels in the Attabad lake rose to 343 feet.

Around 36 villages may be submerged if the banks of the lake burst.

Residents of the affected areas have been shifted by the army to IDP camps and schools.

Earlier, the prime minister had allotted Rs800 million for Hunza affectees.