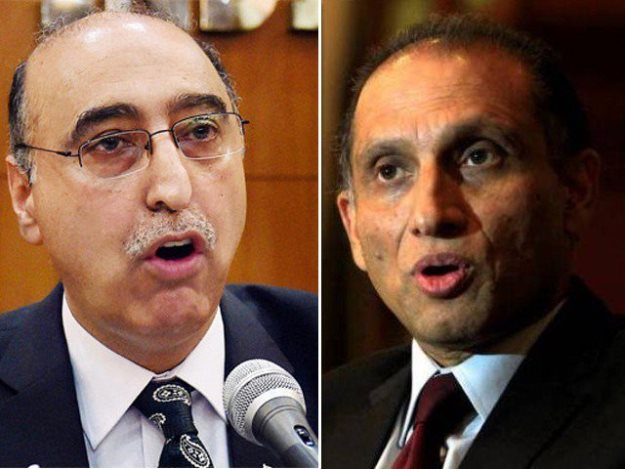 ---
ISLAMABAD: At a time when Pakistan is confronted with myriad foreign policy challenges, the foreign ministry was rocked by a controversy involving a bitter verbal duel between the country's top career diplomats.

A letter apparently written by Abdul Basit, who was until recently serving as high commissioner to India, was leaked on social media on Tuesday showing his bitter differences with former foreign secretary and current ambassador in Washington Aizaz Ahmed Chaudhry.

In the letter dated July 5, 2017, Basit launched a scathing and unprecedented criticism against Chaudhry for his performance as foreign secretary.

"The more I think the more I am convinced that you have been the worst foreign secretary ever," wrote Basit to Chaudhry. "My concern is that you would also end up being the worst Pakistan Ambassador in Washington DC," he wrote.

The former high commissioner, who was once considered for the post of foreign secretary, substantiated his claims by citing the setbacks Pakistan had suffered on the diplomatic front when Chaudhry was serving as foreign secretary.

Declaring that Aizaz was not made for the delicate job of diplomacy, he listed Ufa Joint Statement and Pakistan's 'humiliating defeat' at the UN Human Rights Council as examples of his poor performance.

'Pakistan, US need to work together to destroy IS before it gains foothold in Afghanistan'

The Ufa Joint Statement, issued after the maiden meeting between then prime minister Nawaz Sharif and his Indian counterpart Narendra Modi on the sidelines of the Shanghai Cooperation Organisation (SCO) summit, drew strong criticism from the opposition for not mentioning the longstanding Kashmir dispute.

Pakistan suffered another major setback during Chaudhry's tenure as foreign secretary when, for the first time in 2015 it lost its bid for re-election to the UN Human Rights Council.

"Second and it is more worrisome that your heart is not in the right place. In this regard the less said is better," Basit added. He then went on to demand that it was in Pakistan's interest that Chaudhry be immediately removed as ambassador to Washington.

"If not so, you should not be given extension beyond your superannuation on February 27, 2018. May Allah help when people like you with weak and dubious credentials are at such important positions," Basit concluded.

When contacted, the Foreign Office neither confirmed nor denied authenticity of the letter. However, official sources told The Express Tribune that Basit has indeed written the letter and it was 'genuine.'

The internal wrangling appears to be linked to Basit being overlooked for the foreign secretary's slot twice. He was all set to replace Jalil Abbas Jilani as foreign secretary in 2014 but the PML-N government changed its decision at the last minute and appointed Chaudhry against the coveted position.

Basit then was accommodated by the government when he was appointed as high commissioner to India, considered one of the key diplomatic assignments. He, however, was still hopeful that he would be appointed foreign secretary earlier this year.

The government again overlooked him and named Tehmina Janjua for the job. This led Basit to refuse to work under the new foreign secretary for being his junior and to seek premature retirement.