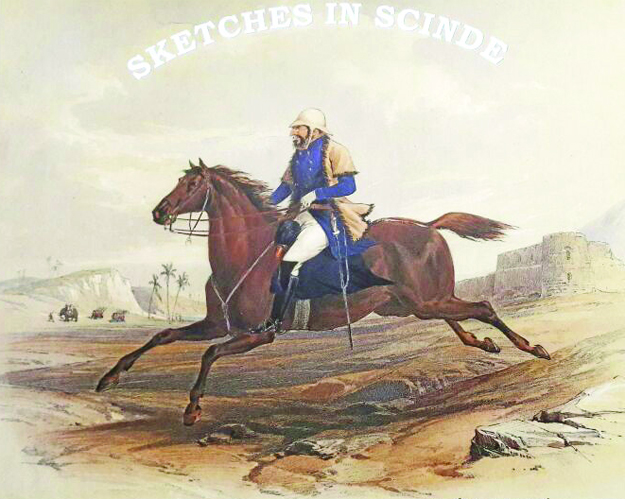 ---
KARACHI: Sindh culture department is set to reprint a book on the historical sites of Sindh written and illustrated by a British who was serving in the army that invaded the province one and a half century ago.

"Approach to Sehwan is through a grove of beautiful tamarind and palm trees. The city is built on raising ground on the bank of mighty River Indus. An object of great interest is the Old Castle of Sehwan, which [is] now in ruins. The old castle, the erection of which is attributed to Alexander is perhaps the only veritable relique of Greek, which can be traced in Scinde [Sindh]," wrote Lieutenant Willam Edwards, an official of the British army, in his book 'Sketches in Scinde' written 171 years ago.

A peek into the master plan for restoration of Makli

Edwards served in the army of General Charles Napier, British Army commander-in-chief in India, who conquered Sindh in 1843 defeating Talpur rulers in the decisive battle of Miani near Hyderabad. Being deeply interested in arts and architecture, Edwards visited various towns and historical places of Sindh after the British invasion and sketched them in an effort to preserve history, art and culture of the region. The sites which Edwards visited include Umerkot, Sehwan, Hyderabad, Lakhi Hills near Sehwan and Bukkur Fort in Rohri.




In one of the sketches, he has portrayed alam (sacred standard) in the courtyard of Lal Shahbaz Qalandar's shrine with devotees sitting in front of the mazaar.

Sindh culture department has now traced Edward's book from the British Library and soon will be publishing it with the editing by notable writer and researcher Madad Ali Sindhi. According to Sindhi, Edwards hardly lived two years in Sindh and left for United Kingdom where his work was published in 1846. He dedicated his sketch book to Napier, the researcher said, adding that despite many attempts the personal photo of Edwards could not be found.

In his preface to the book, Edwards wrote, "Scinde, like Egypt is the gift of the river fertilising its valleys".  He also claimed that the population of Sindh during his time was estimated at about a million.




Forgotten sites

Many historical sites of Sindh, which Edwards sketched, have unfortunately either lost much of their glory or even collapsed. One of such non-existing buildings is the historic castle of Sehwan.

"William Edwards during his visit to Sehwan in 1844 not only sketched the tomb of Qalandar but also expressed dismay at the deteriorating castle in Sehwan, which has now turned into a mound and few can guess that there existed a castle at that site," remarked Sindhi. He added that the fort is said to have been built by Alexander the Great, but there is some other evidence which shows that the fort had existed even before Alexander came to this region. "The local people now call it Kafir Qila [infidel castle] presuming that a cruel king [built it]".

Take a trip down memory lane at the National Museum of Pakistan

Another forgotten site which was sketched by the British officer is of tombs at Lakhi Hills. "The beautiful tombs said to be of Turks were built in the lap of Kirthar mountains, but it is not yet confirmed if these tombs belonged to the people of Turkish origin or locals with surname as 'Truck' were buried there," Sindhi commented, adding that at present only remains of the tombs can be witnessed and most of the graves have crumbled.




Praising Hyderabad

Edwards was visibly impressed by the artwork inside the Hyderabad Fort. The British army had occupied the fort, which is now known as Pacca Qila, soon after conquering Sindh in February 1843. The officer sketched the fort capturing its view from different angles. Currently, the fort is unfortunately encroached upon and people have made permanent abodes inside it.

"Hyderabad Fort is one of the strongest places in Scinde and residence of the Ex-Ameers [former influential persons]. The inner walls are from four to five feet thick and like ceiling they are beautifully and elaborately painted in fresco and enriched with gilt cornices.  There was all around massive glass mirror on walls, some being of great size. These mirrors were removed by some people, but the frames richly gilt and fixed in the wall still remain," Edwards wrote.

Edwards also sketched a view from the top of Hyderabad Fort in which Phuleli Canal surrounded by lofty trees can be seen. At present, the canal runs through populated city of Hyderabad in which more than 960 tons waste of the city is dumped every day. He called it 'Falalilee River'.




"Falalilee River insulates the site of fort and the city of Hyderabad. It [becomes] considerable stream during the rises of the canal, but in the dry season it is knee deep. The banks of this canal are covered with trees and to North West the distance is closed by a background of high land which relieves monotony of dingy sky and arid plains of delta," he wrote.