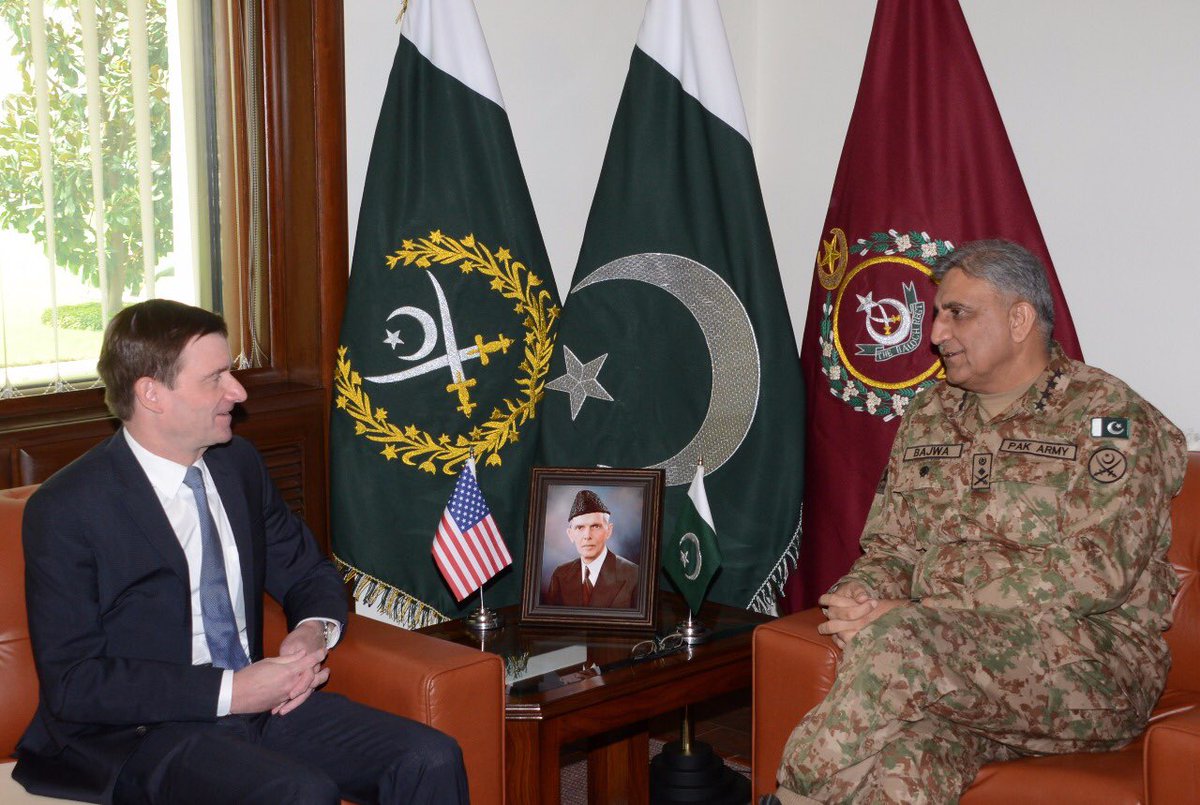 ---
ISLAMABAD: The army chief has apprised the US envoy of Pakistan's reservations over giving India an enhanced role in Afghanistan, besides reiterating that Pakistan does not need financial assistance from Washington, but simply its trust and acknowledgement for the sacrifices rendered in the fight against terrorism.

The envoy, David Hale, visited General Headquarters in Rawalpindi on Wednesday to brief General Qamar Javed Bajwa about the new US strategy for Afghanistan and South Asia.

In his speech, President Trump targeted Pakistan for 'not doing enough' to deal with certain militant outfits including the Afghan Taliban. Trump said Pakistan had to change that approach or face the consequences.

Trump tough talk unlikely to move Pakistan

Reports from Washington suggest that the US may revoke Pakistan's major non-NATO ally status and cut military and other assistance if the country 'continues to provide sanctuaries' to the Taliban and the Haqqani network.

Speaking against the backdrop of this development, the army chief informed the US envoy that Pakistan did not need any financial assistance from Washington.

"We are not looking for any material or financial assistance from the US but trust, understanding and acknowledgement of our contributions," he was quoted as saying by Inter-Services Public Relations (ISPR).


US Amb met COAS. "We are not looking for any material or financial asst from USA but trust, understanding & ack of our contributions" COAS. pic.twitter.com/gCac10KCHv

— DG ISPR (@OfficialDGISPR) August 23, 2017


He pointed out that peace in Afghanistan was as important for Pakistan as for any other country, dismissing assertions that the country was a spoiler.

"We have done a lot towards that end and shall keep on doing our best, not to appease anyone, but in line with our national interest and national policy," General Qamar stressed.

Pakistan 'disappointed' by US reliance on 'false narrative'

"Collaboration and synergy of effort between all stakeholders is the key to success in bringing this long-drawn war in Afghanistan to its logical conclusion," he added.

Ambassador Hale said the "US values Pakistan's role in the war against terror and is seeking cooperation from Pakistan to resolve the Afghan issue."

Sources said the army chief conveyed his reservations over the manner in which Pakistan was singled out and held responsible for the mess in Afghanistan. He also reportedly cautioned the US ambassador about the negative implications of giving a formal role to India in Afghan affairs.

Pakistan has long suspected that India is using Afghan soil to create instability. In the past, US administrations were wary of giving any direct role to India, but Trump seems intent on increasing New Delhi's involvement in Afghanistan.

Pakistan 'disappointed' by US reliance on 'false narrative'

Even American commentators believe this would be a recipe for disaster given the continually high regional tensions between Pakistan and India.

Interestingly, a Trump aide on Tuesday dismissed Pakistan's concerns about growing Indian involvement in Afghanistan as an 'excuse'.

"What India is doing in Afghanistan is not a threat to Pakistan. They're not building military bases. They're not deploying troops," the official told journalists on a conference call.

"They're not doing the things that would constitute encirclement, for lack of a better term, which is one of the things that the Pakistanis complain about," he added.

World responds to Trump's new Afghan strategy

The Foreign Office, in its preliminary reaction, expressed disappointment over Trump's speech for overlooking perennial disputes in South Asia, including the longstanding dispute over Kashmir between Pakistan and India.

A more detailed government response to the new US strategy for Afghanistan is expected today (Thursday) when the National Security Committee, the top decision-making body on national security and foreign policy issues, meets and discusses the evolving situation.