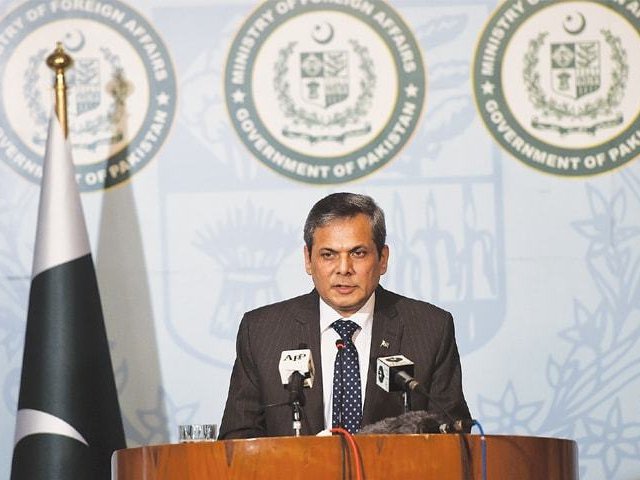 ---
ISLAMABAD: US President Donald Trump's speech, which was peppered with vainglorious rhetoric and veiled threats, 'disappointed' Pakistan, which advised Washington to work with Islamabad "instead of relying on the false narrative of safe havens".

In a new strategy to win America's longest war, Trump accused Pakistan of "housing the very terrorists that we [Americans] are fighting" in Afghanistan. He ignored the contributions and sacrifices Pakistan has made in fighting terrorism.

"No country in the world has done more than Pakistan to counter the menace of terrorism.  No country in the world has suffered more than Pakistan from the scourge of terrorism, often perpetrated from outside our borders," the Foreign Office said in a statement following a crucial cabinet meeting that discussed the new American strategy.

"It is disappointing that the US policy statement ignores the enormous sacrifices rendered by the Pakistani nation in this effort," it added.

It said Pakistan does not allow use of its territory against any country. "Instead of relying on the false narrative of safe havens, the US needs to work with Pakistan to eradicate terrorism."

Pakistan has been accused by American and Afghan officials of harbouring terrorist sanctuaries – a charge Islamabad vehemently denies.

Trump lays down Afghan strategy, lambasts Pakistan for 'harbouring terrorists'

Interestingly, Trump is trying a strategy that his predecessors, Barack Obama and George W Bush, tried and failed: a military victory in Afghanistan.

Pakistan, however, reiterated that "there is no exclusive military solution to the crisis in Afghanistan. The military action during the last 17 years has not brought peace to Afghanistan, and it is not likely to do so in the future", the Foreign Office said and called for a negotiated settlement of the conflict.

"Only an Afghan-led and Afghan-owned politically negotiated solution can lead to sustainable peace in Afghanistan," it added.

According to the statement, the threat to peace and security could not be isolated from the complex interplay of geopolitics, continued existence of festering disputes and pursuit of hegemonic policies. Non-resolution of the Jammu and Kashmir dispute remains the primary obstacle to peace and stability in the region.

Earlier in the cabinet meeting, it was decided to hold detailed consultations on the issue. Prime Minister Shahid Khaqan Abbasi has already convened a meeting of the National Security Committee tomorrow (Thursday) to deliberate on the issue.

Moreover, government sources say diplomatic authorities have been tasked to mobilise 'friendly' states to garner support for Pakistan's counterterror efforts.

Trump tough talk unlikely to move Pakistan

Pakistan is reaching out to Saudi Arabia, the United Arab Emirates, Turkey, and China before issuing a detailed policy statement on Trump's new Afghan strategy.  Premier Abbasi is expected to fly to Riyadh soon to seek the kingdom's support in the existing situation.

Sources said foreign ministry officials, National Security Adviser Lt Gen (retd) Nasser Janjua and representatives of security agencies briefed the cabinet members on the new US strategy and options available for Pakistan to deal with the situation.

Prior to the cabinet huddle, Premier Abbasi flew to Lahore to hold a meeting with his predecessor Nawaz Sharif at his mansion in Jati Umra. Speculations were rife that the two also discussed amending articles 62 and 63 of the Constitution.

However, a cabinet member insisted that they only discussed Trump's Afghan strategy.  "He (Sharif) has remained prime minister thrice. So, the new premier often seeks guidance from his predecessor on different issues, especially those related to national security," the cabinet member said.
COMMENTS (21)
Comments are moderated and generally will be posted if they are on-topic and not abusive.
For more information, please see our Comments FAQ