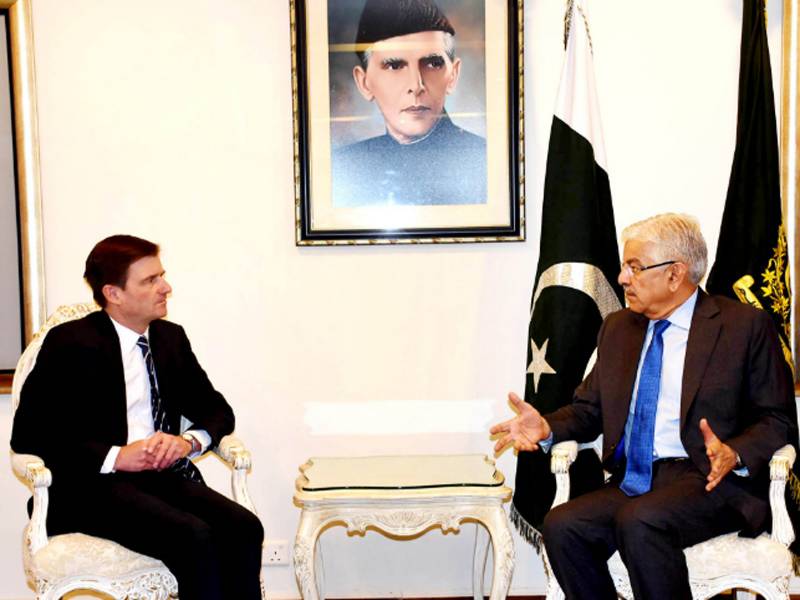 ---
Hours after Donald Trump accused Pakistan of 'harbouring terrorists' in its new policy on Afghanistan, US ambassador David Hale met Foreign Minister Khawaja Asif in Islamabad on Tuesday.

"Ambassador Hale briefed the foreign minister about President Trump's latest statement on the US policy review on South Asia and Afghanistan," the Foreign Office announced in a statement.

Announcing the deployment of thousands of more troops in Afghanistan, Trump also lambasted Pakistan for harbouring "agents of chaos, violence, and terror," saying the US could "no longer be silent about Pakistan's safe havens for terrorist organisations".

Trump lays down Afghan strategy, lambasts Pakistan for 'harbouring terrorists'

Hale, according to the Foreign Office, conveyed that US Secretary of State Rex Tillerson looked forward to meeting Asif in the next few days to have an in-depth discussion on the state of play in the bilateral relationship as well as the new US policy on South Asia.

"The foreign minister reiterated Pakistan's perspective and desire for peace and stability in Afghanistan," the communiqué added.

Highlighting Pakistan's immense sacrifices in the enduring fight against terrorism, the statement said, Asif underlined Pakistan's continued desire to work with the international community to eliminate the menace of terrorism.
COMMENTS (2)
Comments are moderated and generally will be posted if they are on-topic and not abusive.
For more information, please see our Comments FAQ