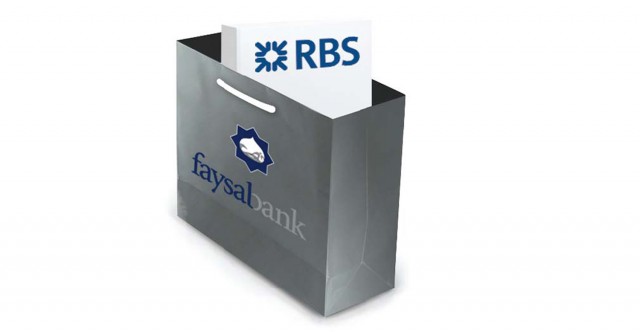 ---
KUALA LUMPUR/MANAMA: Faysal Bank won a bid for Royal Bank of Scotland's Pakistan operations, a source said on Thursday, allowing its Bahrainbased parent Ithmaar to expand its retail presence in the area.

Faysal Bank, which is 68 per cent owned by Ithmaar, beat Egyptian bank EFG-Hermes for the deal, the source with direct knowledge of the matter said, but declined to give its value. The purchase would nearly double Faysal's branch base and help grow its business in Pakistan, said the source. "The deal is done," the source said, adding that an announcement was expected next week.

Faysal Bank Chief Executive Naved Khan was not available for comment, while RBS declined to comment. The Express Tribune had reported on April 28 that RBS had invited only Faysal Bank to Dubai for the final round of negotiations over its bidding process. Both Faysal Bank and RBS Pakistan had declined to comment at the time. The State Bank of Pakistan said in March it had allowed Faysal Bank and EFG-Hermes to conduct due diligence on Royal Bank of Scotland's Pakistani operations, which comprise conventional and Islamic banking.

The planned sale of RBS Pakistan is part of a move by British government-controlled RBS to sell assets globally as it tries to exit from up to 36 countries and focus on its core domestic businesses. "Faysal Bank has submitted a bid among other bidders to buy RBS Pakistan. This is in the final stages of being awarded to the winning bidder," an Ithmaar spokesman said in response to Reuters' queries. "The funding of this acquisition will be done completely internally and domestically arranged by Faysal Bank if this bid is awarded to Faysal Bank." MCB Bank said in January its bid for RBS's Pakistan operations had lapsed because it had failed to get regulatory approval.

MCB Bank had agreed in August to buy 99.37 per cent of RBS Pakistan for about $87 million. RBS Pakistan had over Rs87 billion ($1.02 billion) of assets as at March 31, 2010, about 5,000 employees and over 75 branches in 24 cities, according to its latest available financial statements. Gulf Arab banks are eying expansion in Pakistan to tap the country's Islamic finance industry and to expand their retail footprint outside their limited home markets.

Ithmaar has just completed its transformation into a retail bank by integrating its fully-owned retail unit Shamil to improve its funding position after it posted 2009 losses of $235 million. Bahraini investment houses are seeking to enter retail banking after being badly hit by a regional property crunch that swept away their business model of earning fees on investor money raised for private equity and property projects.

The news of the acquisition broke after the market closed in Karachi on Thursday so markets have not yet had a chance to react to the story. Faysal Bank's stock closed at Rs15.02, down 2.2 per cent for the day. RBS Pakistan closed at Rs12.85, down 0.4 per cent.

Published in the Express Tribune, May 21st, 2010.
COMMENTS (1)
Comments are moderated and generally will be posted if they are on-topic and not abusive.
For more information, please see our Comments FAQ