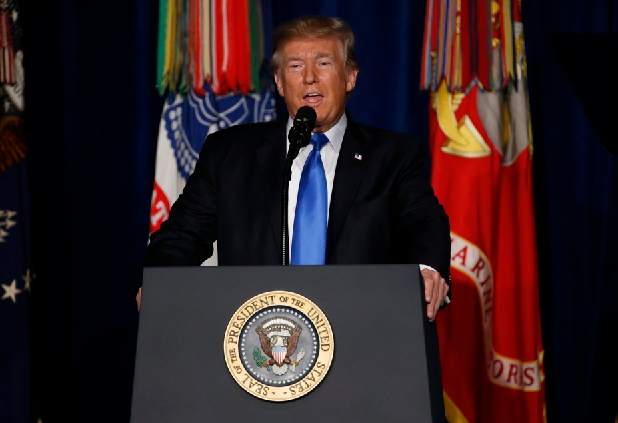 ---
US President Donald Trump, in his much anticipated speech unveiling the long-awaited US strategy on Afghanistan, has said that the war will still go on and even though he intended to backtrack, things look different from 'behind the desk in the Oval Office.'

However, his announcement of the new Afghan policy drew a mixed response from world leaders and analysts who have spoken out on what they feel towards this new plan of action.

US tough talk could push Pakistan closer to Russia, China

Afghanistan welcomes the decision

Afghan President Ashraf Ghani welcomed Trump's new Afghan strategy, which would see deployment of thousands more US troops besides removal of timelines for withdrawal of the remaining foreign soldiers, AFP reported.

"I am grateful to President Trump and the American people for this affirmation of support for our joint struggle to rid the region from the threat of terrorism," Ghani said in a statement.

The Afghan president said the new strategy would increase the capacity of the training mission for the war-torn country's national security forces, including enhancing its fledgling air force and doubling the size of the Afghan special forces.

Pakistan preparing 'detailed response'

"There is nothing new in President Trump's speech," a senior government official who did not wish to be named told The Express Tribune.

"Pakistan has destroyed and eliminated the terror infrastructure from its soil therefore repeating the demand of 'do more' is not going to work," the official added saying.

India shares Washington concerns

India welcomed President Trump's plan to increase US engagement in Afghanistan, saying it shared Washington's concerns about safe havens for terrorists in its backyard.

"We welcome President Trump's determination to enhance efforts to overcome the challenges facing Afghanistan and confronting issues of safe havens and other forms of cross-border support enjoyed by terrorists," the Indian foreign ministry said in a statement.
"India shares these concerns and objectives."

China backs Pakistan

In response to the US president's denouncement of Pakistan's "safe havens for terrorists", China has expressed its support for its "all-weather friend", saying the international community should fully recognise Islamabad's anti-terror efforts.

"Pakistan was on the front line in the struggle against terrorism and had made great sacrifices and important contributions in the fight," Chinese Foreign Ministry spokesperson Hua Chunying said.

"We are happy to see Pakistan and the United States carry out anti-terror cooperation on the basis of mutual respect, and work together for security and stability in the region and world."

US tough talk could push Pakistan closer to Russia, China

Russia thinks Trump's strategy will not be beneficial

Russia does not believe that Trump's new strategy on Afghanistan will lead to any significant positive changes in the country, the Interfax news agency cited an unnamed Russian foreign ministry source.

Britain lauds Trump's commitment

Britain welcomed Trump's commitment to step up the military campaign against Taliban insurgents in Afghanistan.

Britain, along with other European allies, pledged more troops to support Afghanistan's military in June, with US Secretary of Defence James Mattis saying at the time that troop numbers in the country had been reduced too rapidly.

"The US commitment is very welcome," British Defence Secretary Michael Fallon said in a statement.

"In my call with Secretary Mattis yesterday, we agreed that despite the challenges, we have to stay the course in Afghanistan to help build up its fragile democracy and reduce the terrorist threat to the West. It's in all our interests that Afghanistan becomes more prosperous and safer: that's why we announced our own troop increase back in June."

Trump backs off Afghan withdrawal, slams Pakistan for 'harbouring terrorists'

Taliba­n warn Afghan­istan will become 'graveyard' for US




A spokesperson for the Afghan Taliban condemned Trump's announcement that he will keep American troops in Afghanistan with no set timetable for withdrawal.

"If America doesn't withdraw its troops from Afghanistan, soon Afghanistan will become another graveyard for this superpower in the 21st century. Instead of continuing (the) war in Afghanistan, Americans should have thought about withdrawing their soldiers from the country," the statement said.

NATO appreciates Trump's 'conditions-based approach'

Nato chief Jens Stoltenberg has welcomed Trump's plan to send additional troops to Afghanistan, saying the alliance would not let the country become a haven for terrorists, AFP reports.

"Our aim remains to ensure that Afghanistan never again becomes a safe haven for terrorists who would attack our own countries," he said in a statement.

"I welcome President Trump's new, conditions-based approach to Afghanistan and the region," Stoltenberg added, noting that Nato has over 12,000 soldiers stationed in the country.

Meanwhile, Australian military analyst David Kilcullen told the Australian Broadcasting Corp. that Trump's speech set a "fairly low bar" in terms of success. He also added saying that Trump isn't seeking to promote democracy or counter-corruption but only trying to acquire military outcomes.




With focus on Afghan policy, US team due in Islamabad tomorrow

The military strategist also said that the speech sounded as if it had been written by military officials working in the White House.

National security analyst Anthony Cordesman at the Center for Strategic and International Studies in Washington, DC stated, "We don't have any good options and we can't predict the outcome of putting any of them into practice," Trump's approach clears the way for the Pentagon to send several thousand more non-combat US advisers to Afghanistan reports USAToday.
COMMENTS (8)
Comments are moderated and generally will be posted if they are on-topic and not abusive.
For more information, please see our Comments FAQ