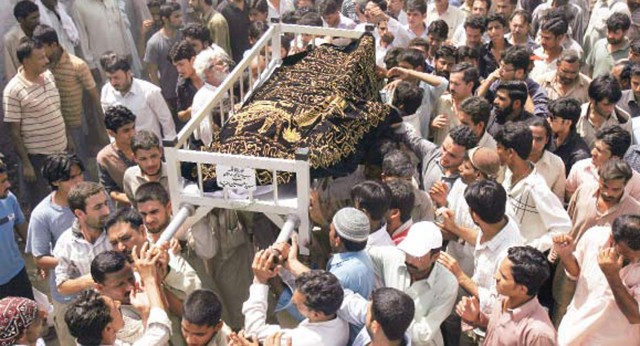 ---
KARACHI: The dead are always remembered but the injured - who are usually on verge of losing all hope - are usually forgotten. Along with the two bodies received by the Jinnah Postgraduate Medical Centre (JPMC), four people were treated by its staff on Thursday.

Three out of the four injured people were discharged, but Muhammad Iqbal, who was shot in his pelvic bone, is still admitted. Iqbal, who runs a general store in Kashmir colony, had gone to stage a protest with the Awami National Party (ANP) rally on Wednesday against the killings of Pakhtuns in the city. On his way back, he was shot by gunmen on motorcycles at the Lucky Star roundabout.

Now, with a plaster cast on his right leg, he does not have much hope for the future. "Although the doctors say that I will be alright after an operation and there will be no disability, I still can't help thinking about my family as I am the only breadwinner," he told The Express Tribune. The centrally located Civil hospital, however, received more victims than JPMC. Zamanul Siddiq Agha, the provincial deputy secretary of the Pakhtunkhwa Milli Awami Party (PkMAP) was also shot in the leg.

He was critical of ANP's policies compared to those of the other parties in the city. "Had the government taken strict action against the perpetrators of the May 12 violence, target killings would have never again erupted," he said. Agha told The Express Tribune that around a dozen men of the PkMAP were sitting inside his teashop when they were attacked. "There were about two to three people who just started firing at us indiscriminately," he said. "The gunmen had ordered tea and waited until the power outage to open fire."

Agha expressed his reservations over the role played by the law-enforcement agencies during the shootout. "The Rangers reached about two minutes after the incident took place but they still could not catch the culprits who were on foot and were going towards the nearby Ranghar Para area all the while firing in the street," he said. "The suspects easily walked away, unharmed." Sher Ali, another Pakhtun victim who was shot in the calf, said, "We are victims of the policies of the governments that represent us." He too believes that had the government held a judicial inquiry into the May 12 violence, "the criminals would not have the courage to come out again".

He said that that the ANP was wrongly representing the Pakhtuns and had been a part of the target killings. "My family is tense. I have sent my children back to Quetta and am planning to move my family back there," said Ali. He called the killings in the city the genocide of the Pakhtun.

Published in the Express Tribune, May 21st, 2010.