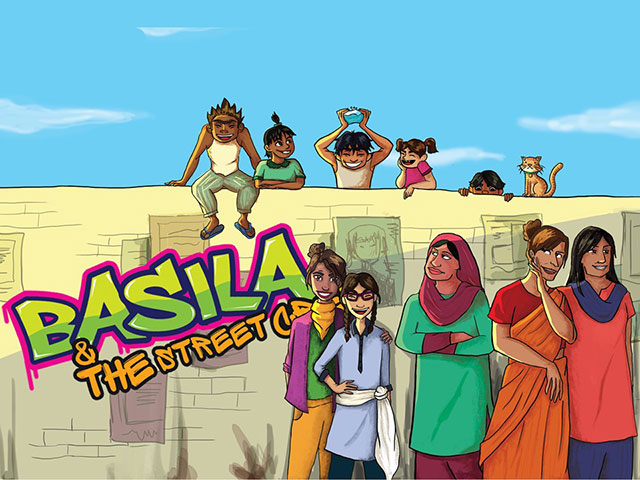 ---
KARACHI: While a lot has been written and talked about them, the transgender community is still very much deprived of equal rights. Art and expression is always a good tool to reflect on the societal issues. Azcorp Entertainment's breakthrough comic book 'Basila and the Street Crew' does just that and more.

The comic book revolves around Basila, a young girl from the Makrani community, who's troubled by all social ills of the community, from child labor to animal abuse. She then rises to the challenge and takes to teach homeless aspiring artists to pursue their passion through painting visual messages of love, peace and interfaith harmony on public walls and open spaces.

Pakistani cartoonist bags new world record of longest comic strip

While the story brings attention to many societal issues, one of them is about giving transgender community equal rights. In fact, one of the leading characters, Basila's aunt Riffat Apa, is a transgender character.

The comic was launched at a ceremony held at The Second Floor on August 17. The ceremony featured a panel discussion with journalist Aafia Salam, actor Adnan Shah (Tipu), transgender actress Kami Sid and co-creator of the comics Anain Jamil. Jamil talked about how she was just supposed to illustrate the comics, but ended up creating their back stories and getting involved in the project on a deeper level.

Talking about the representation of the marginalised community, she said, "We have aimed to neither glorify not victimise a transgender person in the comics. It's important that we show them just like every other human, and in everyday roles such as a parent or a mentor."

An audio message was played from the co-writer of the comics, Noman Ansari. Drawing a parallel between representation of South Asian actors in Hollywood and that of transgender persons in Pakistan, he said, "Growing up, it was difficult to see a brown character in Hollywood films. It's the same with transgender in our local media content. Now, it's quite normal to see diversity in western films. We could slowly do the same with representation of transgender community here."

Comic, UN Envoy Lilly Singh calls for free speech, tolerance in India

Jamil said that to change their image, the key is to "delve into their personalities rather than just show them clapping or dancing." Tipu spoke of his experience playing a transgender person in eight different shows. Asked how he'd portray them, he said emotions had no gender and the key was to "understand what they feel like."

Addressing the issues that the trans community is still facing, Sid said, "We are already being tolerated, but we're still not accepted. People invite on weddings and have the transgenders dance and use us. But they never ever come for help when we are in need. I'm just one Kami but there are so many others I'm talking about who go through worse."

"I must clarify that we don't want special rights, just equal rights. We want to be able to apply for a job on merit and not be rejected just because we are transgender. We want to be seen as individuals with as much to give to society as others. And to change the public perception about us, we will have to change the younger generation's minds."

Have something to add to the story? Share it in the comments below. 
COMMENTS
Comments are moderated and generally will be posted if they are on-topic and not abusive.
For more information, please see our Comments FAQ