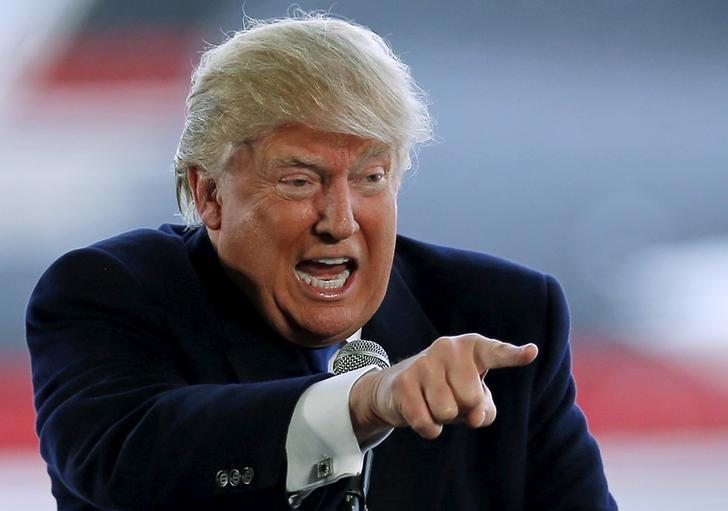 ---
NEW YORK: Several hundred angry protesters demonstrated outside Trump Tower in New York on Monday, denouncing US President Donald Trump before his first visit to his Manhattan residence since taking office more than six months ago.

After making a brief stop at the White House, the Republican commander-in-chief is spending several days in his Manhattan triplex before returning to his golf club in Bedminster, New Jersey to finish out his first summer vacation as president.

But in the predominantly Democratic-voting US financial capital, where Trump is hugely unpopular, several hundred protesters descended on Trump Tower on Fifth Avenue until police could clear the sidewalks.

Trump yields to pressure, calls neo-Nazis and KKK criminals

"Hey, hey! Ho, ho! Trump the racist has to go!" sang the crowd, some holding up giant balloon letters in gold that read: FU TRUMP.

"No Trump, no KKK, no Fascist USA!" the group chanted. "Love, not hate. That's what makes America great!"

Dozens of officers stood guard for several blocks. Police detained at least one woman protesting outside the Prada store, as angry demonstrators rounded on those in uniform shouting: "Who do you serve?"

But Trump arrived in New York after dark, driving through the relatively empty streets of Manhattan under a heavy police presence.

No protesters could be seen from the motorcade along the way, as many were gathered on a different street from the motorcade's route.

"Feels good to be home after seven months, but the White House is very special, there is no place like it... and the US is really my home," Trump said on Twitter.

"I am terrified of what country we've become, the fact that white supremacists, Nazis, anti-Semites feel empowered by our president," said Lynn Gray, 68, who left banking to found her own company.

"He's destroying everything that our forefathers worked for."

Teacher Kevin Gallagher, 61, said he at first gave Trump "a chance" despite his dislike of the Republican.

"But this week has been truly the lowest of his presidency," Gallagher added. "He needs to see what his fellow citizens think of him."

Trump took heat from Democrats and Republicans alike for his initial, subdued response to a deadly weekend rally by white supremacists in Charlottesville, Virginia.

Under pressure to explicitly condemn the violence, Trump earlier Monday denounced racism and slammed the Ku Klux Klan and neo-Nazis as "criminals and thugs."

"I came here to be with the people of New York and express our anger," said musician, Ryan Egan, 28, in jeans and a grey T-shirt, who clapped and shouted with the other protesters.

Far from apologetic, the US president sounded defensive. Trump noted on Twitter he "made additional remarks on Charlottesville and realize once again that the Fake News Media will never be satisfied. ... Truly bad people!"

Media mogul Rupert Murdoch recently urged Trump to sack his far-right chief strategist Steve Bannon, The New York Times reported late Monday.

Murdoch made his plea during a White House dinner before Trump left for vacation in New Jersey on August 4, the Times said.

The timing means it preceded the violence that broke out over the weekend at a white supremacist rally in Charlottesville, Virginia, leaving one dead and 19 wounded. Bannon's critics label him a white supremacist.

Trump previously visited New York in May, for just a few hours, when he dined with Australian Prime Minister Malcolm Turnbull on a decommissioned US warship docked on the Hudson River.

The president often says he's not spending much time in New York to avoid paralyzing the city.

New generation of white nationalist groups flourish under Trump

"During the time that I lived in Manhattan, whenever a president came in, it was very disruptive, and I think I'm probably more disruptive than any of them," he said recently.

Located on Fifth Avenue, Trump Tower houses offices, apartments and the headquarters of the Trump Organization, as well the president's triplex New York residence at the top of the 68-floor glass tower.

It was in the tower's marble lobby that the billionaire real estate developer launched his candidacy for the presidency on June 16, 2015.
COMMENTS
Comments are moderated and generally will be posted if they are on-topic and not abusive.
For more information, please see our Comments FAQ