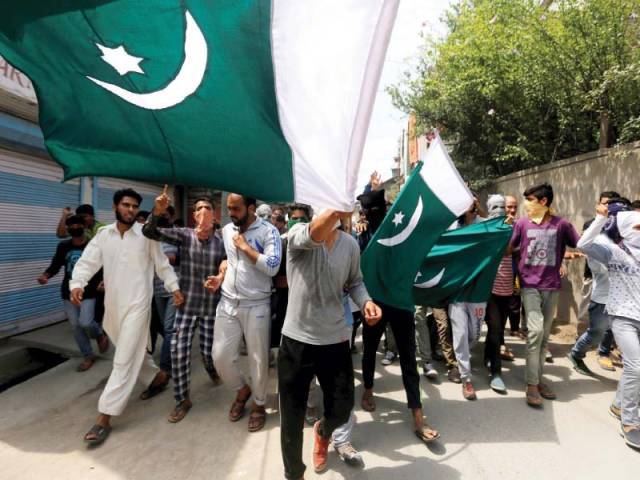 ---
ISLAMABAD: Almost all districts of Indian Occupied Kashmir, including capital Srinagar, Shopian, Islamabad, Pulwama, Kulgam and Badgam, reverberated with the slogans of 'Pakistan Zindabad' on Monday to celebrate Pakistan's Independence Day.

Special prayers were offered for safety and integrity of Pakistan and freedom of Jammu and Kashmir from the illegal occupation of India, according to Kashmir Media Service.

Dukhtaran-e-Millat arranged Independence Day functions in several areas of the disputed Himalayan state. Parades were organised while Pakistani flag was hoisted in the length and breadth of the territory.




Syed Ali Gilani, Shabbir Ahmad Shah, Masarrat Aalam Butt, Aasiya Andrabi, Dr Qasim Faktoo and other Kashmir leaders in their messages greeted the people and the government of Pakistan on the Day.

No better way to celebrate independence than defending country: COAS

Syed Ali Gilani said the Kashmiris were highly grateful to Pakistan for extending its wholehearted moral, political and diplomatic support to their just cause of freedom.

He said that Pakistan was the only hope for the people of Jammu and Kashmir.

Meanwhile, Kashmiris on both sides of the Line of Control (LoC) and across the world will observe the India's Independence Day, on Aug 15, as Black Day to convey the message to the international community that India has usurped their inalienable right to self-determination by the dint of force.

70 years of pain across the Line of Control

The day will be marked by a complete strike in Occupied Kashmir on the call of Syed Ali Gilani, Mirwaiz Umar Farooq and Yasin Malik.

Protest rallies would be staged in the disputed territory and in the world capitals to highlight different dimensions of the Kashmir dispute and Indian atrocities.

The Kashmiri leaders have appealed to the teachers, students and their parents to boycott all functions related to the India's Independence Day.

The leaders warned the authorities not to force teachers, students and their parents to participate in these functions.