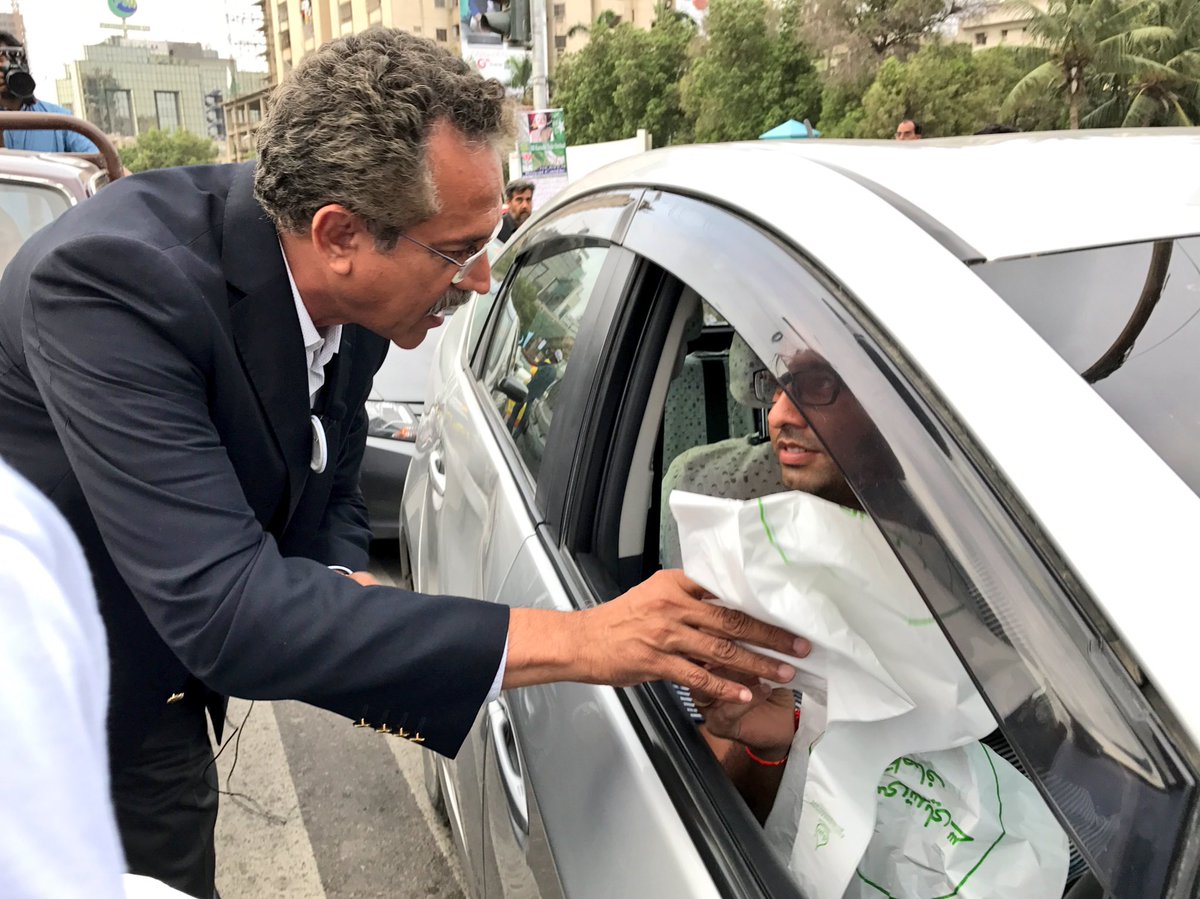 ---
KARACHI: Mayor Wasim Akhtar, along with several young volunteers, distributed biodegradable garbage bags among the citizens, as part of Reckitt Benckiser's initiative 'Hoga Saaf Pakistan' on Friday.

The three-day campaign started on Friday and will end today (Sunday). During the campaign, around 100,000 biodegradable and environmental friendly bags were distributed in Karachi, to encourage citizens to keep their surroundings clean.

The volunteers distributed biodegradable bags among citizens at 20 separate areas in the metropolis and informed them about the importance of taking ownership of the city and to collectively work towards making Pakistan clean. Extending his support for the cause, FixIt founder Alamgir Khan also participated on the second day of the campaign.

RCB to launch cleanliness drive from next week

The activity, 'Let's Not Litter Our Streets', took place at various traffic lights on roads and at roundabouts of not just Karachi but also in Lahore and Islamabad, said Ramsha Wasti, 'Hoga Saaf Pakistan' the project head in Karachi. According to Wasti, around 100 volunteers are involved in the activity. These include employees of Reckitt Benckiser and university and school-going students.

"The idea behind launching this campaign is that cleanliness should be started individually by each one of us. Every individual should take responsibility for ensuring a clean environment for ourselves, our homes and our neighbourhoods," Ramsha told The Express Tribune.


Distributed GarbageBags as part of the #Campaign, themed, "ہو گا صاف پاکستان" run by the #youth at 3-Talwar, #Clifton, #Karachi. pic.twitter.com/IuEMixgm0S

— Wasim Akhtar (@wasimakhtar1955) August 11, 2017


The five-year campaign, 'Hoga Saaf Pakistan', was launched by Reckitt Benckiser with the aim to clean the country by encouraging individuals to take responsibility of cleanliness and disposing trash in designated areas, instead of roads and streets.