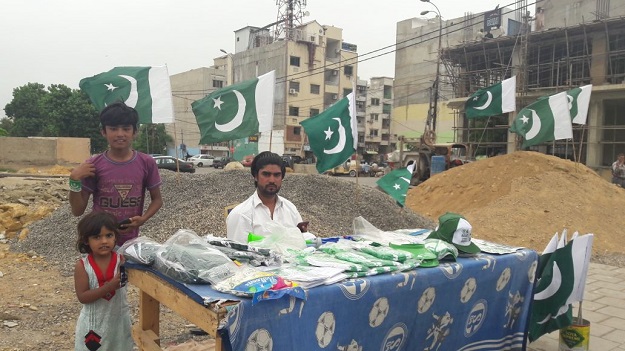 ---
KARACHI: One can easily find out when Independence Day is around the corner; the country lights up in green and white, and all the streets are lined with flags, badges, bangles, caps and other merchandise for the day.

While a stall can be spotted at every nook and corner, one rarely pays attention to the vendors. A conversation with the hawkers, however, revealed an intersection of class, religion and economic stability. The pride emanating from their stories was palpable; the pride of being Pakistani, the pride of being the flag-bearers.




"Not just the moon and the star, all of Pakistan is ours. We identify as Pakistanis and always will," Shan and Sumeet Raj, who run a stall at a busy intersection in Karachi, tell The Express Tribune.

Part of the Hindu minority, they have been putting up stalls in August for the last 22 years, and have never witnessed misconduct at the hands of customers.




Robert Wilson, another vendor has been running a stall for three years. "Saying that green represents the majority and white the minority, is dividing us. Our forefathers spoke of it, and so no one refutes it, but I don't believe in it," he says. "The entire country is ours. We were born here and will always stay here. No matter what the rest of the world says to us."

Wilson believes Christians are respected as minorities. "Whether you go to Dubai or elsewhere, you must come back. You can't run away from Pakistan. The very soil of this country is a part of us," he claims, his chest welling with pride.

Living in a cantonment, he says, has actually been more liberating for him and his family. "The military has constructed two to three churches inside Malir Cantt for us. We go there every Sunday, with family. And no one ever bothers us."




"I'm going to buy green and white paint today and paint my children's face with the flag. They love the colours," says Emanuel Manzoor, a part-time stall-operator in the month of August for the last 14 years. His day job is a clerical position in a government department.




Harichand, whose entire family runs a stall in Karachi, is a Hindu pundit. "Ever since we have lived in this country, we have loved it. We have never seen India, our forefathers used to live in the area of Karachi and Quetta. Karachi was called Mai Kolachi," he reminisces, with a tear in his eye.

Pakistanis outside Pakistan: What 14 August means to them

"Allah ka shukar hai, we have never been bothered or harassed. Muslims and Hindus have always lived in solidarity," he says. "Even though, where my family and I reside – it's purely a Muslim community – in Korangi."

He adds: "I am educated, I know the entire history of the country, Allah ka karam hai," he says with unfaltering pride. "When Narendra Modi was passing anti-Muslim comments, Muslims joined us outside our temple. We even demonstrated against the Indian prime minister."

Asked if he felt he was treated equally to Muslims, Harichand said: "If you observe the rich Hindus in Pakistan, they are at top-level positions," he says proudly. "They have been ministers, and members of the National Assembly. But we're the poor ones, nobody looks at us. But we have no ill-feeling for the government."

This 14th August, let us celebrate the minorities.
COMMENTS (1)
Comments are moderated and generally will be posted if they are on-topic and not abusive.
For more information, please see our Comments FAQ