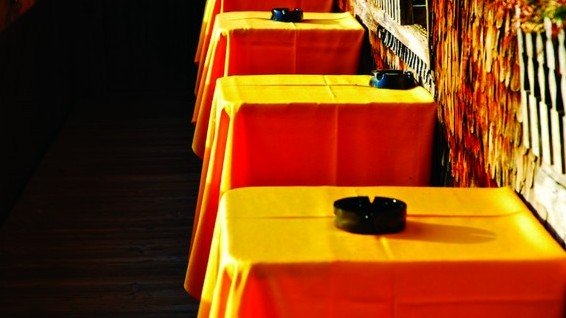 ---
Long before televised food programmes made the public aware of culinary delights, I acquired an expensive taste for good food.

My gastronomic education began at age 12 when I, together with my mother and two younger brothers, set off to Paris to join my father who had begun working for Unesco, and was posted at its French headquarters. This was before the era of quick jet flights, so we boarded an Italian passenger liner called the Victoria from Karachi in 1956. In the first-class dining room, I was initially overawed by the splendid display of cutlery and the elaborate dishes on the sideboards.

The menu was long and daunting, and contained the names of dishes I had never heard of before. But boldly, I would pick out things at random, and discover flavours and taste sensations I had never encountered before. At school in Paris, we had good, hearty French food for lunch. But it wasn't until many years later that I started cooking myself. As my interest in food developed, and I began reading and writing about it, I toyed vaguely with the idea of starting a restaurant. Friends encouraged me, offering to invest in such a venture if I were to run it. In retrospect, I'm glad I never took the plunge. The truth is that to run a really good restaurant, whoever is in charge has to work 16 hours a day.

In Karachi, Okra and Café Flo are good examples of hands-on supervision. Both Ayaz Khan and Florence Villiers are there virtually every afternoon and evening to keep an eye on things, and that's why both places are so successful. Another influence in my decision not to enter the field was advice from Anthony Bourdain in his wonderful first book, Kitchen Confidential. The New York chef — and now mega TV personality — gave details of what actually goes on in the kitchens of top restaurants. He concluded with the advice to foodies to restrict their enthusiasm to cooking for friends and family, giving examples of the disasters experienced by keen amateurs who invested in a restaurant.

This advice was reinforced by the statistic of success rates among new start-ups in London: 90 per cent of all new restaurants shut down in their first year of operation. So what does an outstanding restaurant have to do to succeed? In the kitchen, apart from fresh ingredients, an appealing menu and skilful cooking, there is pressure on consistency above all. If you have eaten a particularly good dish at a place before, you want it to taste exactly the same the next time you visit. This is not always easy to achieve, and the reality of producing the same dishes day in and day out is boring, but necessary.

Then, of course, there are the ambience and décor, both essential to any good restaurant. The service is crucial as a surly waiter can ruin a good meal. Over the years, I have been fortunate in having eaten in many fine restaurants, and have seldom regretted paying the substantial bill presented at the end of the meal. As a schoolboy in Paris, I had heard of a legendary place called La Tour d'Argent. Obviously, there was no question of going there at the time. But a few years ago, we were in Paris for my birthday, and my wife insisted on taking me there for lunch to celebrate. Located in an old building on the banks of the river Seine opposite the Notre Dame cathedral, this is one of the most spectacular places I have eaten in. Established in 1582, it is certainly the oldest.

The waiters are dressed in tailcoats, and we were ushered to our table overlooking the river. We ordered duck which is La Tour's signature dish, and it was as good as any I have ever had. Ever since ducks were promoted as the speciality of the house in the 19th century, the birds have been numbered, and customers are given the number of the particular duck they have eaten. A few years ago, duck number one million was wheeled out to great applause. But more than the quality of the food or service or tradition, it was the total experience of ambience, location and sheer luxury that made it so worthwhile.

While we were eating, an elderly gentleman in formal attire came to our table and asked if everything was to our satisfaction. It turned out he was the owner, and made it a point to come every day to check on things. I read recently that he had now retired, and handed over the baton to his 27-year-old son. Another restaurant that combines elegance with immaculate service and outstanding food is The Waterside Inn at Bray, near London. A friend took me there many years ago, and the memory of that splendid lunch is with me still. The Inn was awarded three stars by the Michelin Guide, the foodie bible's highest accolade, 25 years ago, and retains them to this day.

I can only begin to imagine the unceasing attention to detail that has made this level of quality and consistency possible. Established by the Roux brothers — who also set up that other iconic London restaurant Le Gavroche — The Waterside Inn is an irresistible beacon for gastronomes from around the world. Both these are at the very top end of the culinary scale, and are seriously expensive. Indeed, they are places to go to when somebody else is picking up the tab, or you are celebrating something. However, eating out doesn't have to cost you an arm a leg. For me, Racine in London offers outstanding French food at affordable prices. Most European restaurants have fixed menus for lunch that allow you to sample their fare without having to apply for an overdraft.

Luckily for most of us, there are large numbers of eateries where you can eat well for a fraction of the price you would have to pay at Michelin-starred places. In Paris, many bistros offer a simple, satisfying dish of lamb or chicken, using the freshest ingredients, for a few euros. England now has a vast range of restaurants from around the world where you can savour everything from a Thai venison curry (that I had last night in Oxford) to an excellent karahi in Manchester. In fact, you can eat out every meal in London for a year without going to the same place twice. For a city of its size and relative affluence, Karachi is poorly served in terms of good restaurants.

While there are some great kebab and nihari joints, the emphasis is on quick turnover and a fast profit. Long, leisurely meals are not encouraged. Indeed, our cuisine is not divided into courses as everything is served at once. This causes us to mix the flavours of the dishes, and to gobble the food so it doesn't get cold. Another self-inflicted problem is caused by the temptation to minimise costs and increase profits once a restaurant has begun to attract customers. Owners, acting out of greed, take short cuts like sacking expensive chefs and using cheaper ingredients. Soon, this causes a decline in quality and puts off the punters.

At the end of the day, a restaurant stands or falls by the quality of its fare. I have often been a victim of this short-term approach to food: when I have reviewed a place soon after its opening and praised the food, I have noted a steep slide on a subsequent visit. Readers have complained that when they ate there at my recommendation, they were disappointed. In the highly competitive culinary scene in the West, however, the investment needed to start a new restaurant is so high that it would be a foolhardy investor who acted in such a greedy manner. Many know the formula for a successful restaurant; but few get it right in practice.

Published  in the Express Tribune, May 23rd, 2010.
COMMENTS (2)
Comments are moderated and generally will be posted if they are on-topic and not abusive.
For more information, please see our Comments FAQ