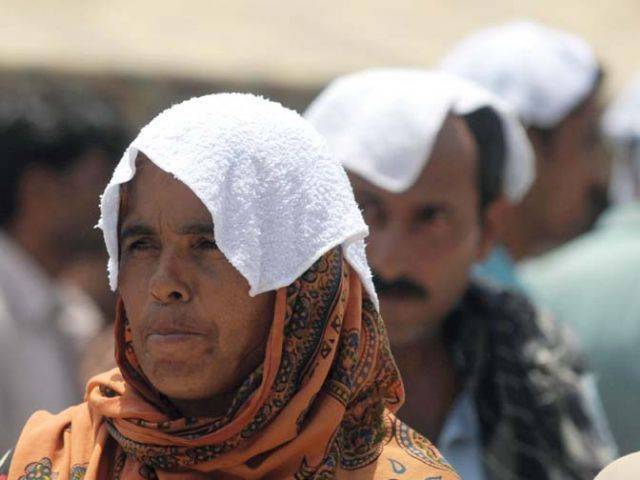 ---
ISLAMABAD: Pakistan is among South Asian countries that are at high risk of being hit by intense heat by the end of this century that will ultimately make human survival difficult in the region.

A study based on computer simulations by researchers at the Massachusetts Institute of Technology (MIT) has made startling revelations about the impact of climate change on South Asian countries by 2100, which includes Pakistan, India and Bangladesh.

"If climate change continues at its current pace, deadly heat waves beginning in the next few decades will strike parts of India, Pakistan and Bangladesh… heat waves across South Asia in the summer of 2015 killed an estimated 3,500 people and similar events will become more frequent and intense," according to the international researchers.

Toolkit for heatwave management launched

While commenting on the research, experts told The Express Tribune that Pakistan is already among 10 countries most affected by climate change and every year the situation is worsening.

Vice President of Asia-Pacific region of the World Meteorological Organisation (WMO) Dr Ghulam Rasul said, "It is unfortunate that the authorities concerned in Pakistan are not feeling the gravity of the current situation.

"The day is not too far when extreme weather due to climate change will have horrible impact on the economy, agriculture, water availability and human in this country. We did not even learn any lesson from intense heat wave that hit Karachi in 2015" and claimed more than a thousand lives.

Stopgap measures: Pakistan fighting climate change with ad-hocism

Rasul, who is also chief of the Pakistan Meteorological department (PMD), said: "Even our local researches have projected that in the near future, it will be difficult to live in Pakistan mainly due to extreme weather events that will also trigger worst water crisis."

He said even this year, from April onwards maximum temperatures set a new record in different parts of Pakistan.

Turbat reported a temperature of 54 degrees on May 28, and according to WMO spokeswoman Claire Nullis the hottest place on Earth appears to be the town of Turbat in southwestern Pakistan, which reported a temperature of 54 degrees Celsius in May.

Rasul said in every year the frequency and intensity of heat wave is increasing in Pakistan.

"Under the impact of climate change, summer is extending, winter is squeezing and spring is vanishing from Pakistan," he said.

He believed that major causes behind the worsening situation are rapid urbanisation, population growth and deforestation among others.

"Pakistan is currently not capable enough of tackling the alarming situation and, if timely measures are not taken, then it would further worsen the situation," he warned.

Heat in South Asia could reach 'unsurvivable' levels by 2100

Former Pak-EPA Director-General Asif Shuja said the study carried out by Eltahir indicated rise of wet bulb temperature by year 2100 in Pakistan and other countries of South Asia.

He said in Pakistan temperature increase was being realised variably depending upon the decade and in five zones.

"Pakistan has seen a rise of average 0.60 degree centigrade from year 1800 to 2000 – the highest rise was in the Balochistan and Sindh areas," he added.

The extreme temperature events have been indicated in Pakistan's climate change policy and action plan, said Shuja.

"The government should show some seriousness in strengthening the institutions concerned and provide them with adequate resources to cater for extreme whether events, before it gets too late," he warned.
COMMENTS (10)
Comments are moderated and generally will be posted if they are on-topic and not abusive.
For more information, please see our Comments FAQ