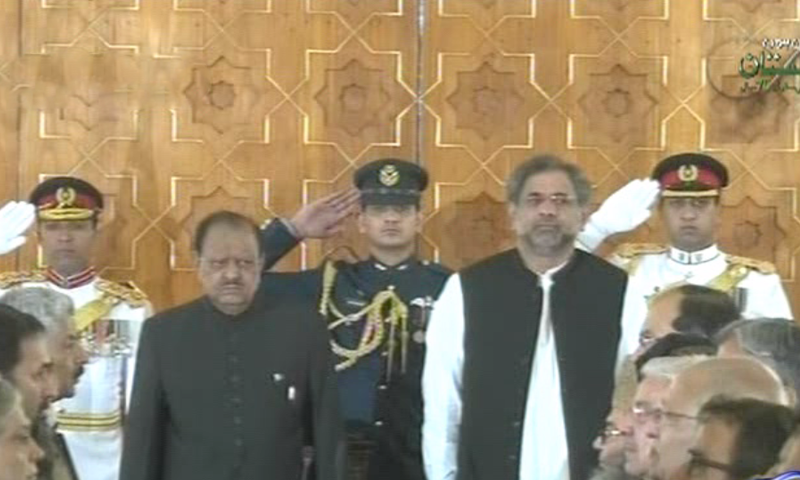 ---
ISLAMABAD: President Mamnoon Hussain on Friday swore in a 43-member federal cabinet as the ruling party's top leadership – retaining most of the old faces – made some unexpected reshuffle at the crucial slots while appointing fulltime foreign and defence ministers.

After two days of back to back meetings in Murree with deposed prime minister Nawaz Sharif, the PM finalised names for the new cabinet – comprising 27 federal ministers and 16 ministers of state – which took their oath of office at the presidency in two groups.

Cabinet of prime minister Nawaz Sharif, who was deposed by the apex court on July 28 for hiding his asset in his nomination papers, also had 43 members including twenty federal ministers, nine ministers of state, five advisers and nine special assistants to the prime minister.

The federal ministers who took oath on Friday include Hafiz Abdul Kareem, Abdul Qadir Baloch, Sheikh Aftab Ahmed, Ahsan Iqbal, Akram Durrani, Ameer Zaman, Awais Leghari, Ghulam Murtaza Jatoi, Hasil Bizenjo, Javed Ali Shah, Kamran Michael, Khurram Dastgir, Khawaja Asif, Balighur Rehman, Barjees Tahir, Ishaq Dar, Pervaiz Malik, Sardar Yousaf, Mushahidullah Khan, Riaz Pirzada, Saad Rafique, Sadaruddin Rashidi, Saira Afzal Tarar, Salahuddin Tirmizi, Sikandar Hayat Bosan, Rana Tanveer and Zahid Hamid.

The list of ministers of state include Abdul Rehman Kanju, Abid Sher Ali, Anusha Rahman, Dr Darshan, Ghalib Khan, Ch Jaffar lqbal, Jam Kamal, Marriyum Aurangzeb, Mohsin Ranjha,  Akram Ansari, Aminul Hasnat Shah, Arshad Laghari, Junaid Anwaar, Talal Chaudhry, Tariq Fazal Chaudhry and Usman Ibrahim.

Old faces set to return with new portfolios

The National Assembly Speaker Sardar Ayaz Sadiq, parliamentarians, diplomats and senior civil officials attended the event. The president later hosted a reception in honour of the new cabinet members.

The most significant aspect of Prime Minister Shahid Khaqan Abbasi's cabinet is appointment of Khawaja Asif and Khurram Dastagir respectively as 'full time' foreign minister and defence minister. Asif and Dastagir served as water and power and commerce ministers in former PM Sharif's cabinet.

As Chaudhry Nisar had refused to join the cabinet, the important position of Interior Minister has been given to former planning minister Ahsan Iqbal. Ishaq Dar has been reassigned Finance Ministry.

Lt Gen (retd) Abdul Qadir Baloch, who was minister of states and frontier regions (Safron) in Nawaz's cabinet, has been reassigned portfolio of the same ministry. Baloch was earlier considered favourite for the slots of defence and interior minister.

Saira Afzal Tarar, the state minister for national health and Balighur Rehman, the state minister for education in the previous cabinet, have also elevated as federal ministers.

The other two female ministers – Marriyum Aurangzeb, state minister for information, and Anusha Rehman, state minister for information technology, have been assigned the same portfolios.

PM Abbasi presented guard of honour at PM House

Mushahidullah Khan, who was forced to quit in 2015 due to his controversial interview to BBC about alleged role of former Inter-Services Intelligence chief in planning opposition parties' 2014 marathon sit-in in Islamabad, is reinstated on his previous status as the Federal Minister for Climate Change.

Talal Chaudhry is among the new entrants in the cabinet, elevated as State Minister for Interior. Reportedly, MNA Daniyal Aziz was also offered the position of State Minister for Kashmir Affairs but he refused to accept it.

The elevation of 'controversial' figures – including that of Asif and Mushahid – has raised a few eyebrows. The party insiders decipher this development as an indication that Punjab Chief Minister Shehbaz Sharif may not be the next PM and Abbasi may remain in the office till federal government completes its term in June next year.

After Nawaz Sharif's disqualification, the ruling PML-N's Parliamentary Party had endorsed Nawaz's recommendation to appoint Shehbaz as his successor and to bring Shahid Khaqan Abbasi an 'interim' PM until Shehbaz is elected as a member parliament.

"Had it been for Shehbaz, you wouldn't have seen Asif anywhere around. If cabinet was to be reshuffled with the elevation of a new PM after 45 days or so, you would not have seen a full time foreign minister and a defence minister being placed in the saddle. It seems that pro-establishment leaders did not have a say in the formation of this cabinet," a PML-N lawmaker said, while requesting anonymity.

New PM swings into action

Soon after the completion of his cabinet, the new PM chaired a cabinet meeting and set up seven new ministries – Energy, Water Resources, Postal Services, Statistics, Privatisation, Narcotics Control and Commerce & Textiles. He also ordered to establish related divisions under these ministries.

The PM also issued instructions to the federal ministers to intimate the PM Office prior to travelling abroad. Any federal minister and federal secretary (of the same ministry) shall not travel abroad simultaneously and PM would be informed before any such visit.

He also directed completion of ongoing infrastructure and energy projects on priority basis. Later, Chairman Joint Chiefs of Staff Committee General Zubair Mehmood Hayat, Foreign Secretary Tehmina Janjua, senior PML-N leader Ameer Muqam and others separately called on PM.
COMMENTS (7)
Comments are moderated and generally will be posted if they are on-topic and not abusive.
For more information, please see our Comments FAQ