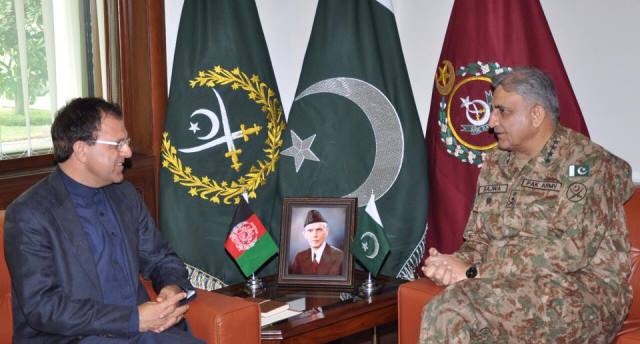 ---
A day after a deadly attack on a mosque in Herat province, Afghan ambassador to Pakistan Omar Zakhilwal has discussed security situation and border management with army chief General Qamar Javed Bajwa, a statement issued by the army's media wing said.

According to the Inter-Services Public Relations (ISPR), the envoy, who called on the chief of army staff (COAS) at the General Headquarters, Rawalpindi on Wednesday also shared matters of mutual interest.



Gen Qamar also expressed his grief over loss of innocent lives in the recent terrorist attacks in Afghanistan.

Thirty worshippers including young children were killed and 64 injured when suicide bombers throwing grenades stormed the Jawadya mosque in the western city of Herat near the Iranian border on Tuesday.

Islamic State claims mosque attack in Afghanistan's Herat

On June 24, the army chief said it was about time for the other stake holders particularly Afghanistan to do more in the fight against terrorism.

"Unfortunately our sacrifices against terrorism are not well acknowledged and we are often subjected to demand of do more," Gen Qamar said.

He also said since 9/11, Pakistan is one of the few countries which have borne the brunt of terrorism and made monumental sacrifices to effectively neutralise the menace in its state territories.