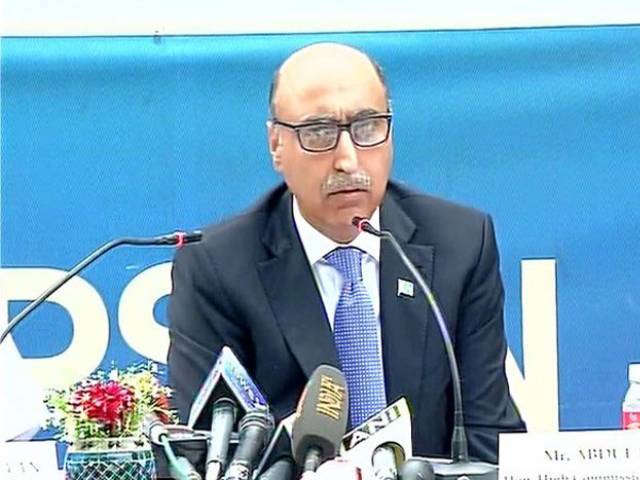 ---
The outgoing High Commissioner for Pakistan in India Abdul Basit on Monday regretted the two neighbours could not start the comprehensive bilateral dialogue as agreed in December 2015 and urged India to return to the negotiating table without further ado and any preconditions.

The envoy, in an Op-Ed page article published in the Times of India, reiterated that Pakistan and India cannot live in 'perpetual hostility'.

Basit said former prime minister Nawaz Sharif's decision to attend Narendra Modi's inauguration showed Pakistan's intent to initiate a new beginning with New Delhi.

He wrote, "The two PMs in their maiden meeting agreed to resume bilateral dialogue as soon as possible. After such a propitious start, the press conference by the then Indian foreign secretary issuing a charge sheet against Pakistan, when Nawaz was still in town, was unhelpful to say the least."

The outgoing envoy also wrote that he was baffled by New Delhi's decision to call off its foreign secretary's scheduled visit to Islamabad in 2014 as a response to his (Basit's) interaction with the Hurriyat leaders.

Pakistan not violating any pact by not giving consular access to Jadhav, says Basit

Basit added that it was necessary to find an 'amicable solution' to the Kashmir dispute. He said that a solution to the dispute which does not resonate among the Kashmiris would 'ineluctably fall flat'. He said, "Simply put, we cannot put the Jammu and Kashmir dispute on the back burner."

The high commissioner also said, "We must settle this once and for all, as well as Siachen and Sir Creek, to build a permanent peace between the two countries."

Basit also wrote that he was aware that many in India were sceptical that the Kashmir dispute was not the root cause of the problems in the relationship with Pakistan. He said that Indians view that terrorism is the major issue between Islamabad and New Delhi.

The envoy responding to those sceptics said, "To them my submission is that the wars our two countries have fought during the last 70 years all predated the Samjhauta Express blast, the Mumbai attacks and Pathankot."

However, Basit also said, "This is not to say the menace of terrorism can be ignored and left unaddressed." He cited Pakistan's success in the fight against terrorism by highlighting the operations Zarb-i-Azb and Radd ul Fasaad.

Pakistan has sufficient evidence against Jadhav: Abdul Basit

Basit, in the article, also suggested ways for the countries to move from 'conflict management to conflict resolution'.

He said the first step is for India to return to the negotiating table without further ado and any preconditions. He questioned, "Talks are not a favour by one country to another. Dialogue is unavoidable. Since it will happen sooner or later, why waste time?"

The high commissioner's second suggestion was that it is important to maintain peace and tranquillity along the Line of Control. Thirdly, he said, all the other existing agreements should be adhered to in letter and spirit. Fourth, the envoy said, Pakistan is not interested in an arms race but will maintain the credibility of its full spectrum deterrence under all circumstances.

Basit, in a separate interview to The Indian Express, said that the two national security advisers are in contact with each other to explore ways to resume the dialogue process.

"I believe they are in touch with each other. I don't know if they met. Let us hope this will help both countries to come to the negotiating table," he said. Sources told the Indian newspaper that Doval and Janjua were focused on finding a way to return to the negotiating table.

Negative elements in Pakistan, India don't want talks: Abdul Basit

Basit also confirmed that the SAARC summit will not be held in Pakistan again this year, but postponed to 2018.

When questioned on Kulbhushan Jadhav's case, Basit said: "Jadhav's case was sensitive because he was involved not only in espionage but also in subversion."

The high commissioner also said that Pakistan would wait until the ICJ verdict to take a call on the matter related to the visa for Jadhav's mother. He said that Jadhav had given Pakistan a lot of information on his activities.  "Since his arrest, we have arrested hundreds… more than hundred operatives in Pakistan and busted several sleeper cells," he said.

Basit also said that Pakistan had asked India and Nepal for information on the whereabouts of retired Colonel Habib Zahir, who went missing near the India-Nepal border in Lumbini in early April.

"There are apprehensions that he may be in India's custody, there is no harm in asking India. He may have strayed into India. In these situations, there is no harm in asking," Basit said. He also said that Pakistan is yet to receive a reply from India.

The envoy also rejected speculation that Pakistan was considering Zahir's swap with Jadhav. "These are apples and oranges. There is no question of such a thing," he said.