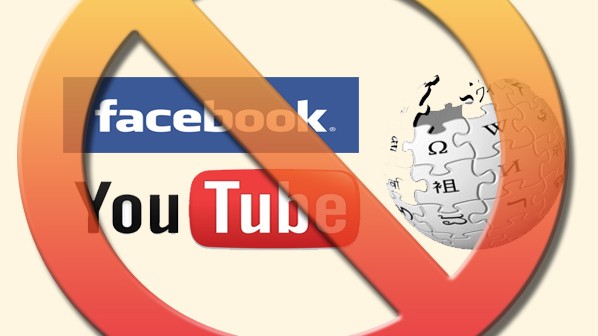 ---
KARACHI: Pakistan Telecommunications Authority (PTA) has so far blocked more than 450 links to derogatory material in Pakistan on the Internet, a statement issued by the PTA on Thursday said.

"PTA has directed all concerned operators to shut down website www.youtube.com in view of growing sacrilegious contents on it," the statement read.

The government regulatory body called on Facebook and YouTube to get in contact to resolve the matter at the earliest opportunity in a manner that  "ensures religious harmony and respect".

Many internet users in Pakistan have been faced with an "Access Denied" message when trying to access Wikipedia, Flickr.com and other popular websites.

Protesters take to the streets:




Dozens of members of the student wing of Jamaat-e-Islami, protested in Islamabad for a second day running, calling for a permanent boycott of Facebook and supporting a government ban of the website. The protestors originally planned to march on the US embassy, but riot police armed with shields and batons prevented the crowd from moving towards the heavily guarded diplomatic enclave and they dispersed.

Several hundred students also demonstrated in the central city of Multan,  where they set alight a US flag and temporarily blocked a road, calling for a blanket ban on Facebook before dispersing peacefully.

Social and religious organisations, students, journalists and NGOs in Sialkot also announced to observe Friday as a Protest Day against Facebook for publishing blasphemous caricatures against the Holy Prophet (PBUH).

They also called for protest rallies to be held in various parts of the city, seeking a permanent ban on Facebook in Pakistan by the government.






Protests have been taking place across the country to condemn the hosting of offensive caricatures of the Prophet Muhammad (PBUH) on Facebook. To view pictures of the anti-Facebook protests, click 

here

.

Pakistan condemns caricatures on Facebook:

Pakistan on Thursday "strongly condemned" the caricatures of the Prophet Mohammed (PBUH) that appeared on the popular social networking website Facebook as insulting to Muslims worldwide.

"We strongly condemn the publication of caricatures on Facebook. It has hurt sentiments of Muslims all over the world," foreign ministry spokesman Abdul Basit told a weekly press briefing in the capital Islamabad.

"Such acts are not helpful in promoting interfaith harmony in the world. We have opposed such acts in the past and we will continue to oppose and raise our voice in future also," he said.




Views in Pakistan:




Asim Malik, 40, who works for a local human rights organisation, called on Facebook to respect religion and steer clear of controversies which can be exploited by radicals. "I think this was the best step to block it. These sort of things create people like Faisal Shahzad. You see that a liberal man like him was forced to become an extremist," Malik said.






Wahaj us Siraj, a spokesman for the Internet Service Providers Association of Pakistan (ISPAK) and also CEO of Nayatel, a leading service provider, that blocking Facebook and YouTube would slash up to a quarter of all Internet traffic in Pakistan.

"These two sites take 20 to 25 percent of the country's total Internet traffic so we are seeing a drop in Internet traffic," he said.




Twitter uproar:

Pakistani internet users are using the popular micro-blogging network Twitter as a platform to discuss the latest on the current internet controversy that has taken the country by storm. Twitter users have developed a new hash tag "#FbPKBan" to collect all discussion about the authorities latest website blocking spree.

Here is a collection of some tweets by Twitter users on the debate:

@adamdawood I think our ties with China are getting far too close!#FbPKBan

@shariquess welcome back to Zia era, in case you forgot.. block, censor, ban.. #FbPKBan

@uzairaon Does freedom of expression mean to hurt some1's sentiments and feelings... #FBPKBAN

@ShuaibKhan NOOOOOOOOOOOO! Where is my Internet!!!!!!!!!???????????????????????????????? #FBPKBan

@DeuceExMachina What #Pakistan needs now, is a Tehran-style Twitter-Jihad for free speech #FbPkBan

@mu_abdullah @DrAwab I be with you! No bans. We are conscious beings. Can't restrict us. They don't have the right. #FbPkBan

@hushamahmed This is getting more insane with every passing minute. Anyone planning to file a lawsuit? #FbPkBan

@huzaifahm #fbpkban gmail is next in line

@abhishekmadan Pak banning FB is obviously a US ploy.They want to track Osama. If there's no recent activity on his profile, they know he's in Pak.