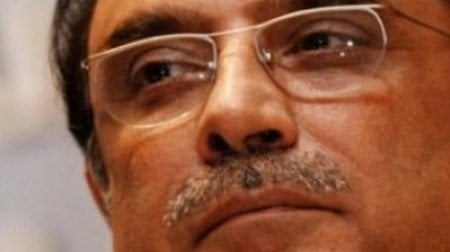 ---
ISLAMABAD: The Supreme Court's Shariat appellate bench on Wednesday issued notices to President Asif Ali Zardari, Begum Nusrat Bhutto, Gulzar Begum and, through the President, Bilawal, Bakhtawar and Aseefa Bhutto Zardari.

The four-member bench was hearing a petition against the Federal Shariat Court's (FSC) decision to return the assets of the Sheikh Zaid Sultan trust to Zardari, his children and Begum Nusrat Bhutto. The petition was filed by Mazhar Alam and others through their counsel Aslam Khaki. Khaki pleaded before the bench that the FSC cannot direct the federal government to transfer the trust's assets and requested the bench to issue stay orders against the decision.

Justice Mian Shakirullah Jan said that the order's implementation was automatically halted when an appeal under Article 203-D of the Constitution was fixed for hearing before the bench. Justice Saqib Nisar observed that without hearing out both the parties, the court cannot issue a stay order. The trust, formerly known as Peoples Foundation Trust, was founded in 1974 by Zulfikar Ali Bhutto with support from Sheikh Zaid bin Sultan Al- Nahyan and owns huge properties throughout the country.

However, in 1977, General Ziaul Haq took over the trust and renamed it as Sheikh Zaid Bin Sultan Al-Nahyan Trust and Sheikh Sultan Trust. In 2002, Benazir Bhutto filed a petition in the FSC and requested that the assets be returned to Zulfikar Ali Bhutto's legal heirs, following which the court directed the federal government to return the assets.

The 75-page judgment said that the counsel for the petitioners asked Maulana Sajidur Rahman Siddiqui of Jamia Darul Uloom Karachi to address the court on the question that the impugned martial law orders violated the injunctions of Islam. The court issued notices to the owners of the two trusts and adjourned the hearing till the formation of new Shariat appellate bench in the apex court.

Published in the Express Tribune, May  20th, 2010.