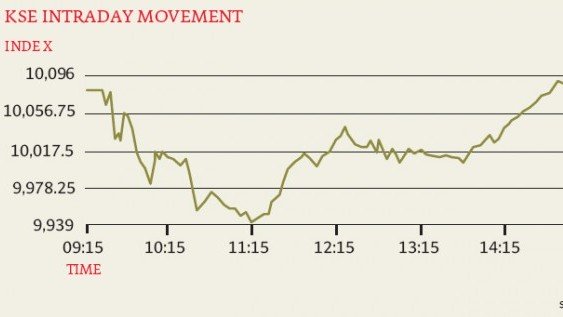 ---
KARACHI: Pakistani stocks ended lower though they still avoided ending below 10,000 points as local institutions stepped in at lower levels to accumulate cheap shares.

The market opened almost flat. It mirrored the fall of other markets in the region and went on to break the psychological barrier of 10,000 points. It went to an intraday low of 9,939 points. Dealers said that institutions stepped in at this point to buy cheap shares. The Karachi Stock Exchange's benchmark 100-share index, the KSE-100, fell 32 points, or 0.32 per cent, to end at 10,050.04 points.

Turnover rose to 118.28 million shares compared with 84.85 million on Tuesday. Even so, volumes were not encouraging, said JS Global Capital analyst, Muzzamil Mussani. Lower priced stocks led volumes. Total exchange value stood at Rs4.02 billion as compared to Rs3.52 billion on Tuesday. Dealers said investors were also waiting for the announcement on Monday of the monetary policy for the next two months. Analysts expect the central bank to keep its policy rate unchanged at 12.5 per cent as inflation still poses a threat.

Volumes were up 15.26 per cent and the index staging a modest recovery suggests that the pullback is likely to continue, said KASB Securities analyst, Aiyaz M Hassan. He added that however the overall trend remains bearish because the index's opening was marginally negative but recovered to close in the green after touching its day's low. Investors are choosing to stay on the sidelines due to volatility of regional markets, absence of major triggers and anticipations regarding the budget next month, said Mussani.

According to him, the market had recovered because of 'value buying' by local investors. "The local bourse witnessed a volatile session today due to continued pressure regional and international markets. However due to attractive valuation in blue chips stocks, some foreign and institutional activity was seen on lower levels, allowing index to close above psychological level of 10k, said Topline Securities analyst, Furqan Punjani. He added that low priced stocks continued to dominate the volumes showing local investors interest in the market. Out of the 396 shares traded today, 118 were up, 260 were down and 18 remained unchanged.

FFC also closed up at Rs115.02 as today was the last trading day for receiving cum dividend of Rs4 per share, announced by the company in its financial statements for the first quarter 2010. NIB Bank was the volume leader with 16.26 million shares; its went down Rs0.14 to close at Rs3.61. TRG Pakistan Ltd came second with 10.9 million shares, gaining Rs0.21 to end at Rs5.09. Lotte Pakistan was third with 7.9 million shares going down Rs0.18 to end at Rs9.94. Yesterday the stock had been the volume leader with 10.03 million and had lost Rs0.19 to close at Rs10.05.

Published in the Express Tribune, May 20th, 2010.
COMMENTS
Comments are moderated and generally will be posted if they are on-topic and not abusive.
For more information, please see our Comments FAQ