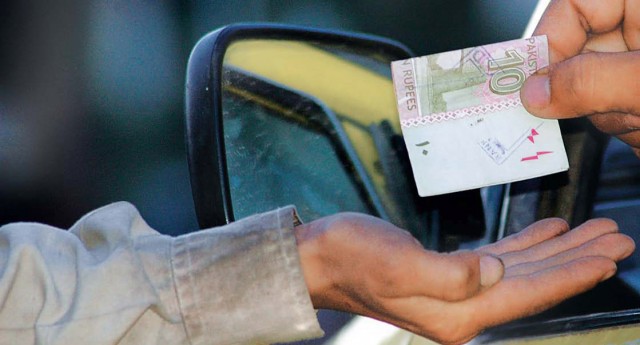 ---
ISLAMABAD: A Beggar Rehabilitation Centre is being constructed by the Islamabad Administration to combat the rise of beggars in Islamabad.

When completed, it will provide beggars with skill development facilities allowing them to choose honourable professions. "We have contacted several non-government organisations (NGOs) for the construction of this centre," an official of the Islamabad Administration told The Express Tribune. The site will be constructed at Dam Meerath near the Simli Dam. Beggars will be provided with skill development and proper health facilities at this centre.

A citywide campaign has been launched by the government to tackle this rise in beggars. "We have assigned police officials to patrol different areas of the city, if beggars are found they are arrested on the spot," an official said. Once caught, the women are sent to Edhi homes and the men are sent to Adiala Jail Rawalpindi. Many beggars are part of gangs and are released on bail. Out of the eight women caught this month, seven were from Rawalpindi according to a police report from the women police station Aabpara. "Children as young as eight years old are out on the streets begging, we want to get them off the streets so they can live normal lives and be educated," the official added.

Police officials said that it was hard to keep track of beggars released on bail and had therefore started taking thumbprints. "Despite all these measures being taken, beggars have increased in the capital," a high official in the Police said. Beggars can be found at traffic signals and the major shopping areas on the capital. Begging is now a crime punishable by law. If caught, beggars are fined Rs1,000 and imprisoned for 15 days. "When the police come, we can spot them from a distance and we run away, it is much easier to get away at night," Irum, a 13-year-old beggar, said.

When questioned on her choice in profession she confessed, "I don't like begging but my family is very poor, my sisters go to school but I have to help my family." Fatima Shehzad, a housewife, told The Express Tribune that sometimes she gets irritated with beggars constantly knocking at the car window but she couldn't help but feel sorry for them. "I see these little children with no shoes; I can't help but give them money. How do I know if their cases are genuine or not," she said.

Published in the Express Tribune, May 20th, 2010.