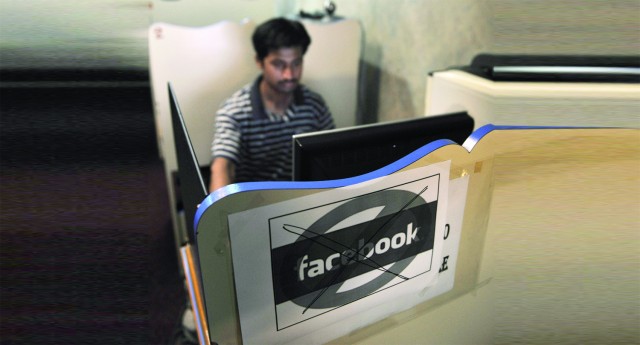 ---
KARACHI: Our social lives improved with the advent of Facebook.

Theatre, music, plays, standup comedy, invitations for all sorts of events poured in. People even organised protests through Facebook. But when Facebook itself is banned... "If the ban is lifted by the 31st as we have heard, then we have no issues," said Mashal, who works with the Citizens Archive of Pakistan, a non-government organisation.

"But if the ban continues for longer we may have problems getting in touch with people and informing them about our events." Not just that, but students use the website to apply to CAP for internships and the summer session is just starting. They are also apprehensive about their ongoing oral history project which relies on Facebook quite a bit. Facebook was a boon for small businesses whether it was to make contacts or introduce a new line of clothing. And one can argue that it has helped many people do a lot of good.

For example, Zimmedar Shehri, a group of students who pick up trash and have now expanded from Lahore to Karachi, Islamabad, Peshawar, Faisalabad and Sargodha, uses Facebook to tell their volunteers about their meetings. Bilawal Shaikh sends invites to the 300 members on their Karachi page through Facebook every Thursday so that enough people gather every Sunday to pick up trash. Murtaza Hasnain, vice-president of Zimmedar Shehri, told The Express Tribune that the ban will not be as problematic in Karachi as the organisation is still in its infancy, and runs mostly through personal contacts. "The disaster will happen in Lahore because we have over 2,800 members on that page and we can't possibly inform each one of them," he added.

For other non-government organisations, the issue is larger than just contacting people. The director of Peace Niche, Sabeen Mahmud, said that she is more concerned that the government has yet again robbed people of their civil liberties. She is less troubled by the effects this ban could have on her business. The Peace Niche invites people to its events, such as book launches, stand-up comedy acts and poetry recitations, through a variety of ways that include Facebook, mailing lists, Twitter, Google calendar and its website. "Facebook helped us attract younger people but we survived before Facebook became so popular and we will manage if the ban continues for longer," she said.

However, Mahmud felt that the Facebook administration should have removed the page from their site since they have an option for users to 'report' anything offensive. "They must have certain parameters to remove sites or profiles that have been reported as offensive and they should have used that authority to remove that site," she added. In addition to small businesses, many people who used the social networking website felt that some part of their life had been shut off. "It doesn't make sense to ban Facebook because of what someone is doing in some other part of the world," argued Bilawal Shaikh, a 23-year-old consultant.

He felt that as long as the owner of Facebook did not make that page, it made no sense to block the site. "Why should our government limit our freedom to visit whichever site we want to," he said. Others had a more personal problem with the ban. Twentyeight year-old Khadija, whose boyfriend lives abroad had this to say: "As it is I don't have a love life. With Facebook gone, I have nothing to occupy my time anymore!"

Published in the Express Tribune, May 20th, 2010.