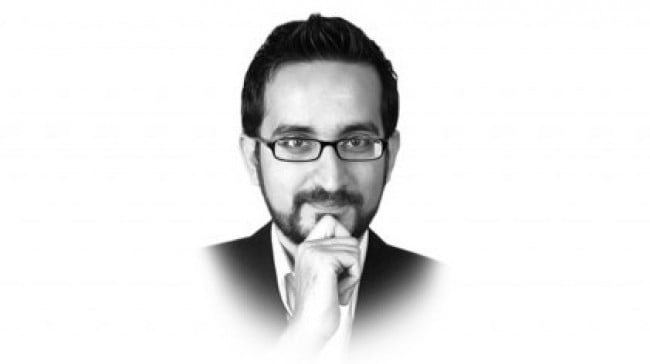 ---
The recent controversy over an alleged conversation between someone who sounds like Hamid Mir and someone who sounds like a member of the Taliban talking over something that feels like a phone about issues regarding someone who looks like Khalid Khawaja have put the man who seems like a journalist in the middle of something that smells like a disaster. I am not making any statements on the authenticity of the tape because I do not have all the information and mostly because I can't afford to be hit by a Rs250 million lawsuit. Plus I don't have the patience to write an article using words like "purportedly", "supposedly", "claiming" and "theoretically".

Here's what we do know: According to the transcript of the conversation that may or may not have occurred at some point in the space-time continuum between two creatures who may or may not have been human beings, someone who sounds like the Capital Talker is advising someone who sounds like the most clueless member of the Asian Tigers by saying: "Torture him [Khalid Khawaja] until he confesses to being either a CIA agent, a Qadiani, a Blackwater operative, George W Bush in disguise, all of the above." You almost feel sorry for the poor Tiger as he gets effectively bullied into a corner. This controversy has, if nothing else, provided free PR for the Asian Tigers. It is a viral campaign with low cost and high returns that brand managers everywhere wish they had thought of. It's scary being a small start-up group of terrorists. You want to make a big impact with minimal resources and if things don't go according to your hastily improvised plan then you might have to compromise on your brand strategy just to survive, doing silly things like changing from English to Urdu. Your carefully executed act of terrorism may go unnoticed and next thing you know you are the cautionary tale on the terrorism road.

For future reference, the Taliban needs to hire a better PR agency. Their press release was a disaster. They tried to distract from the main issue by waving pictures of hapless girls partying with friends and ending with casual sign offs like "Take care". Either the spell checker on their MS Word was disabled or they wrote words like "condumn" and "agenceis" on purpose. Either way, it read like a dyslexic's nightmare. Bin Laden would have never allowed this to be released without a proofreader giving it a thorough onceover. Hamid Mir has, of course, jumped to his own defence with a carefully worded rebuttal of the accusations. He alleges a conspiracy against himself and his employer, which isn't much of a claim given that every Pakistani is positive there is a conspiracy targeting him/ her personally. I, myself, am certain of Zionists and CIA agents lurking in my peripheral at all times. In an interview with The Guardian he states: "They took my voice, sampled it and manufactured this conspiracy against me". Wouldn't it have been easier to hire an impersonator? Or was this the same technology that PML-N MNA Shumaila Anjum Rana said was used to create a 3D avatar of her stealing a credit card a year back? If so, can I get a pirated copy of this software please? Why is it being wasted on discrediting journos and ministers when I could fabricate conversations between myself and Natalie Portman to fool my friends?

If I were Mir, I would worry less about the recording and more about the fact that the Taliban, in their nightmarish stream-of-consciousness press release, have described him as a "repudiated personality." Let's give them the benefit of the doubt and assume they meant "respected personality." That's some damning praise for Hamid Mir. When the Taliban thinks you are doing a good job, you need to question your life choices.

Published in the Express Tribune, May 20th, 2010.
COMMENTS (25)
Comments are moderated and generally will be posted if they are on-topic and not abusive.
For more information, please see our Comments FAQ