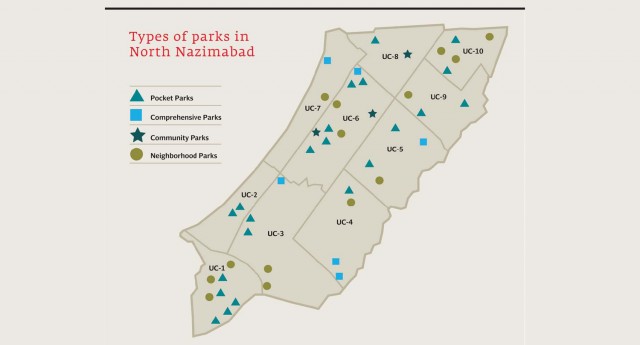 ---
KARACHI: Karachi is never associated with images of green buds bursting into a thousand coloured flowers, large and lush parks with ancient trees and children swinging from monkey bars.

However, one of the towns in the city, seems to be going in the greener direction. North Nazimabad has 51 parks and 23 playgrounds. While the number of parks has fallen since 1953 from 65, the number of playgrounds has increased from five to the double digits. Public parks, called 'open green spaces' by experts, are essential for city planning. As Ulrich, Hunt and other researchers have written, parks are 'antidotes to the unhealthy city, providing [people] access to cleaner air, nature and open space'.

The study highlights the importance of these parks in today's world, where overpopulation and pollution is leading countries to lean on their parks more and more to balance the picture. A 2009 study on parks in Karachi, published in the Australian Journal of Basic and Applied Sciences, tries to judge the city's green spaces according to international standards and concludes that Karachi has a long way to go. It is authored by Dr Farkhunda Burke, Syed Nawazul Huda, Muhammad Azam, Salma Hamza and Qamarul Haq from the University of Karachi and Federal Urdu University of Arts, Science and Technology.

They used the size of a park, greenery and facilities among other indicators to judge its worth. It helps to define a park more sharply, calling forth attention to boundary walls, seating arrangements, dustbins, security and even bathrooms. But while the city's parks might not have swimming pools, lost-and-found facilities, first aid or emergency fire centres, there is a rising interest in environmental issues, found the researchers. This might explain why despite the population explosion, North Nazimabad, which the study points out as one of the more educated areas in the city, has not seen a greater decline in its greener spaces.

The North Nazimabad Scheme was planned in 1953. More than 50 years later, the decrease in park area is a minimal 0.22 per cent. Interestingly, the study found that some of these beacons of hope for a greener future were actually built by cancelling the plans for other constructions. Two of the 51 parks were set up on plots for primary schools. One which has taken up the place of a goth. Three parks were built on plots meant for apartments, two on the land meant for places of worship and two others on land allotted to official buildings. According to the Master Plan of 1961, this was 'the only way adequate space could be provided' to parks.

The study's researchers also found that the smaller the park, the better the chances that it would be well-maintained. Parks with an area of three acres or less were found to be cleaner and better preserved. Not just because smaller ones are easier to maintain in general but because the people living around the park took an active interest in it. "These people look after the parks and also spend their personal funds on their maintenance," noted the researchers. The good parks included Umme- Huzaifa Park in UC 9, Ibn-e- Insha Park and Akhlaq Hussain Park in UC 1 and Baradari Park in UC 3. The study also found that parks closer to mosques were better maintained.

Published in the Express Tribune, May 20th, 2010.
COMMENTS
Comments are moderated and generally will be posted if they are on-topic and not abusive.
For more information, please see our Comments FAQ