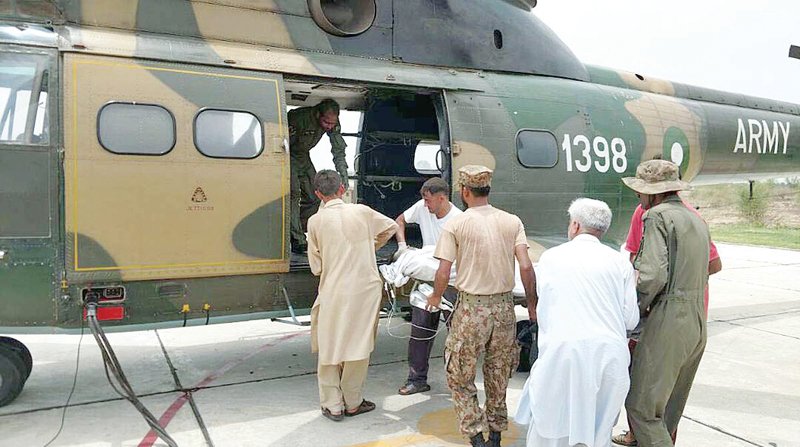 ---
BAHAWALPUR /MULTAN: The state is not doing anything to provide emergency health services to the public, apart from the army, which stands with us in difficult times, said the brother of a man who sustained burns in the Bahawalpur fire on Sunday.

Around 148 people were burnt alive and over 200 seriously injured after an overturned oil tanker caught fire on Sunday morning. Most of the victims were trying to collect fuel leaking from the vehicle.

The tanker, carrying 40,000 litres of fuel, overturned near Ahmedpur East on the main highway from Karachi to Lahore.

More than 100 burn victims were shifted to various hospitals in south Punjab.

Hamza, whose father was injured in the incident, said, "The government is wasting peoples' money on useless projects instead of providing basic health facilities." He added that his father was taken to Tehsil Headquarters (THQ) Hospital Bahawalpur before being transferred to Victoria Hospital, Bahawalpur and later to the burn unit in Multan.

After the incident, at least 111 people were shifted to various hospitals in Multan on military helicopters. A number of ambulances from Combined Military Hospital (CMH) and Nishtar Hospital were on standby at Multan International Airport to shift the victims to burn centres.

The Multan commissioner, deputy commissioner, RPO, and CPO were also present at the airport.

Nishtar Hospital Burn Unit In-charge Dr Naheed said that the patients were in critical condition as they sustained around 60% to 70% burns. "We will try our best to save their lives."

She added that an emergency has already been declared in the entire hospital.

Rescue 1122 Bahawalpur District Emergency Officer Asif Rahim Channar told The Express Tribune that they have recovered 137 dead bodies from the site of the incident, while adding that 20 of the bodies were children.

Around 115 people have been shifted to Victoria Hospital, he said, adding that most of them sustained almost 60% to 70% burns and 16 of them are in critical situation.

"Victoria Hospital does not have a burn unit, leaving patients to face severe difficulties," he said. He was quick to add that they have contacted CMH Bahawalpur about shifting critical cases there, while some critically injured have already been shifted to Nishtar Hospital in Multan.

He said a list of injured people has been displayed at the hospital to facilitate their relatives.

Muhammad Rizwan, a motorway police official in Bahawalpur, said the incident took place in the morning and most of the victims worked at nearby mango farms on KLP road. He added that a police vehicle present nearby was also reduced to ashes.

Local resident Murtaza told The Express Tribune that he and his brother were on their way home when he spotted a crowd collecting the spilt oil. "I went there as well but all of a sudden a fire broke out. I have never seen such a horrible incident in my life," he said, adding that he also sustained burns, but nothing severe.

Haroonur Rasheed, a former police official and an expert on emergency and rescue operations, said that some people who had gathered at the scene to collect fuel started smoking cigarettes and using their cell phones, either of which could have ignited the fire. "Yes, even cell phones can ignite fires," he told APP, adding that the car batteries inside the tankers could also spark a fire under the right conditions. He urged the authorities to take note of all aspects while conducting inquiry into the incident.

Bahawalpur Deputy Commissioner Rana Muhammad Saleem Afzal said that a medical emergency has been declared throughout the district.

Meanwhile, Punjab Chief Minister Shehbaz Sharif has announced compensation of Rs2 million for the families of the deceased and Rs1 million for the injured.

Bahawalpur RPO Raja Riffat told The Express Tribune that 75 motorcycles, three cars, one rickshaw and one cycle were destroyed.

At least 28 injured were admitted to different hospitals across Lahore.

They were transferred to the old airport on a C-130 and 40 ambulances were waiting there to transfer them to Jinnah Hospital and CMH. Furthermore, 10 injured who landed at Faisalabad Airport were admitted to Allied Hospital.

With additional input from Our Correspondent and

Published in The Express Tribune, June 26th, 2017.