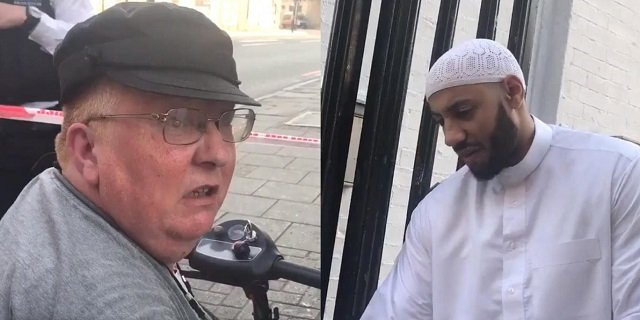 ---
Julie Simpson, reportedly travelled all the way from Ilford, London, to the Finsbury Park Mosque on her mobility scooter to comfort victims and apologise to the Imam of the mosque personally for the attack that took place a few days ago, reported The Independent.

"I came here because people who done this are not English. They are not Christian. In fact - God forgive me - they are animals. They are pigs. They say they are Muslims, they're not Muslims, man. They're not Christians. They're nothing."

She further added, "Muslim, English, in the Quran and in the Bible, it says 'love your brother like you would love yourself', yeah. Would you do that to your brother? My friends, I am so, so sorry. I am so sorry for this. I am," she said.

She also delivered flowers along with a card to a victim's family and apologised to them too.

Three years ago, Finsbury Park Mosque won an award for efforts against extremism

In response, the Imam of the mosque said, "You don't have to apologise because he doesn't represent you. This criminal doesn't represent you and he doesn't represent Britain."

"They're a fringe group of criminals and extremists. Likewise IS, they're a fringe group of extremists, and they don't represent Muslims.  These people don't represent the great people of Britain," he said.

https://twitter.com/TheEisaAli/status/876878919248613376

Attacks are often perpetrated in the name of Islam, resulting in pressure over the Muslim community to denounce extremism and violence publicly. However, in this case it was heartwarming to see something similar take place in response to the Finsbury Park attack against Muslims, even though it was on a comparatively smaller scale.

The Imam had been hailed a hero for intervening when local residents wanted to beat a man accused of driving into people on Monday outside the London mosque after Ramazan prayers, and one official said "his bravery and courage" potentially saved the attacker's life.

The suspect was yanked from the cab of his van by a furious crowd as he sought to reverse and escape after injuring 10 people in what police said was a deliberate attack on Muslims that was being treated as 'terrorism'.

UK police charge man with terrorism-related murder over van attack by London mosque

The man was being held down, beaten and kicked when the Imam, Mohammed Mahmoud, stepped in to plead with people just to restrain him until police arrived. "We found that a group of people quickly started to collect around him, around the assailant and some tried to hit him either with kicks or punches. By God's grace we managed to surround him and to protect him from any harm," Mahmoud said.




"We managed to extinguish any flames of anger or mob rule that might have taken charge," he told reporters, adding he was acting with "a group of mature brothers".

The suspect had been shouting earlier "I've done my bit", aid Toufik Kacimi, the chief executive of the nearby Muslim Welfare House community center, who praised the Imam's courage. "[The Imam's] bravery and courage helped calm the immediate situation after the incident and prevented further injuries and potential loss of life," he said.

"I've just seen sheer pandemonium. People on the floor screaming. People bleeding. I've seen the guy being held on the floor," Ibn Oman told Reuters at the scene. "[The Imam] did the right thing. He had to stop people."




This article originally appeared on The Independent.
COMMENTS
Comments are moderated and generally will be posted if they are on-topic and not abusive.
For more information, please see our Comments FAQ