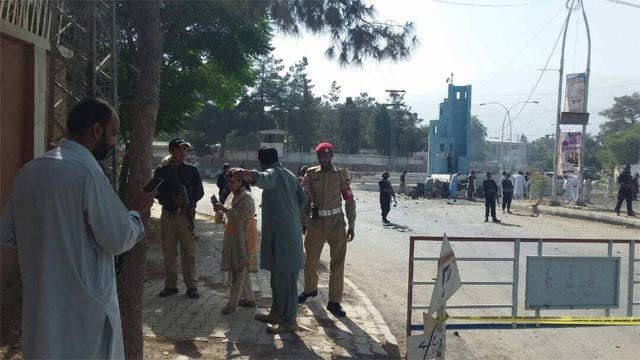 ---
The bombers have struck in Quetta yet again and yet again on a Friday, the last Friday before the end of Ramazan with Eid preparations under way across the country. There are at least 11 dead including five policemen and between 21 and 25 injured depending on which report is read. No responsibility is yet claimed for what appears to be a suicide blast using a vehicle that security officials had tried to stop at Shuhada Chowk. It detonated immediately afterwards. Published and broadcast imagery showed several badly damaged cars, as well as a shattered vehicle that is the likely source of the blast. It seems probable that any confusion will be resolved by CCTV footage.

All the usual condemnations swiftly followed. A spokesman for the provincial government, Anwarul Haq Kakar, blamed India for the bombing but was unable to offer any supporting evidence for his statement. It will be recalled that Indian spy Kulbhushan Jadhav currently under sentence of death operated almost exclusively in Balochistan, thus an Indian connection cannot be entirely ruled out. That said there are any number of groups in Balochistan that are actively targeting the provincial government and its security agencies. There have been a string of fatal and non-fatal incidents in recent months — two navy men killed in Jiwani, 10 labourers butchered again near Gwadar and three security officials injured by an IED near Kalat — and there seems little prospect of the incidence of terrorist acts diminishing.

The disturbing reality is that the security environment in Balochistan continues to deteriorate. The security services are no more on top of the challenges than they were six months or a year ago. Banned groups continue to mount complex operations. The borders with Iran and to a lesser extent Afghanistan have flashpoints that erupt regularly and what is obviously and painfully missing is any sense of joined-up thinking and action from the federal and provincial governments as to how best to bring peace and stability. Balochistan is drifting, a victim of political inertia.

Published in The Express Tribune, June 24th, 2017.

Like Opinion & Editorial on Facebook, follow @ETOpEd on Twitter to receive all updates on all our daily pieces.