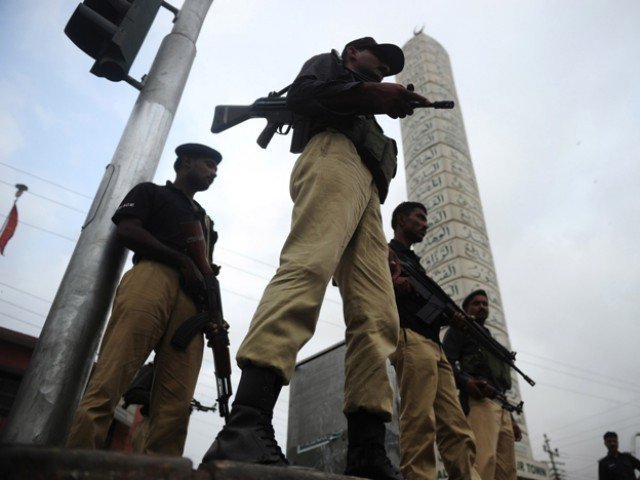 ---
KARACHI: Gunmen on motorcycles shot dead four policemen who were breaking fast at a roadside restaurant in the SITE area of Karachi on Friday – hours after suicide and bomb attacks claimed at least 47 lives in Quetta and Parachinar.

Pamphlets of a hitherto unknown militant organisation, Ansar al Sharia Pakistan, were found at the crime scene, leading investigators to believe the group carried out the deadly shooting.

"The policemen were having Iftari at a roadside restaurant near Habib Bank Chowrangi when the terrorists targeted them," said District West SSP Nasir Aftab. "All of them were shot in the head from a close range – and they died instantly."

The attackers fled the scene unidentified and unchallenged. The bodies of the victims were later shifted to the Abbasi Shaheed Hospital for medico-legal formalities.

DSP shot dead in Karachi

Extra contingents of police and paramilitary Rangers cordoned off the crime scene to allow investigators to collect vital forensic evidence. Police recovered more than two dozen cartridges of 9mm pistols from the site.

"The attack involved more than four terrorists who were wearing helmets," said SSP Aftab. "The unwary policemen were a soft target for the terrorists as they were breaking fast." The victims were identified as ASI Muhammad Yousuf, and Constables Israr Shabbir and Khalid.

Taking notice of the incident, Sindh Home Minister Sohail Anwar Siyal and IGP Allah Dino Khawaja ordered a stern action against the culprits. They also ordered law enforcement agencies to evolve a strategy to avoid such incidents in the future.